Starbucks Committed 'Substantial' Legal Violations To Defeat Union, Officials Say
Federal labor officials say Starbucks broke the law repeatedly during a union organizing campaign in Florida and should be forced to bargain with the workers there.
A regional director for the National Labor Relations Board filed a complaint against the company on Tuesday, asking that a judge take the rare step of issuing a "bargaining order" for the Starbucks store in Estero, Florida. Such an order would effectively throw out the results of an election in which workers voted 21-11 against unionizing in an initial tally last May.
The regional director, David Cohen, argued that the election was irreparably tainted by Starbucks' actions, and that there was only a "slight possibility" that a do-over election could be run fairly. He said compelling Starbucks to bargain with the Estero workers was the only certain way to rectify the situation, given the company's "serious and substantial violations."
"Requests for a bargaining order tend to be reserved for what officials consider egregious cases of labor law violations."
Among other charges, Cohen alleged that Starbucks fired a worker because they were a lead organizer for the union, threatened to withhold raises and benefits if workers unionized, and carried out "closer than normal supervision" of workers to discourage them from forming a union.
"The unlawful conduct… followed immediately after [Starbucks] learned about the Union's organizing campaign," Cohen alleged.
The next step is for the case to be heard before an administrative law judge, with both the union and Starbucks calling witnesses. Such cases can take months or years to be litigated, and are subject to appeals.
Starbucks denied the complaint's allegations.
"We disagree with the merits of the Complaint and maintain that actions taken at our Estero store were in full compliance with the [law]," a spokesperson said in a statement. "We look forward to a full legal review of the matter."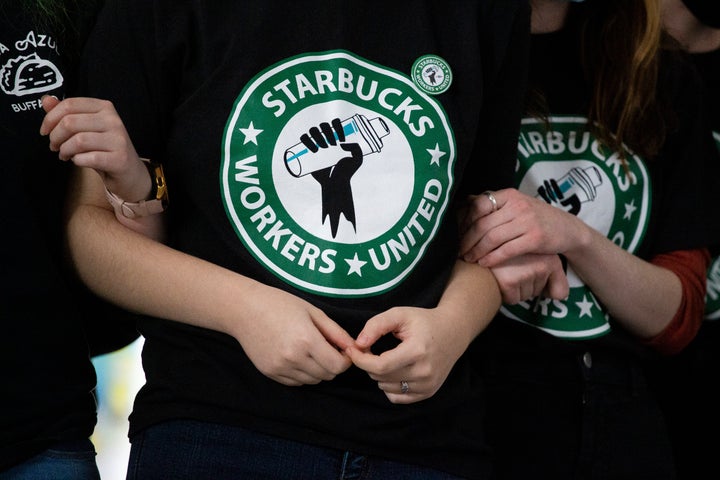 The new complaint is one of more than 20 that NLRB officials have brought against Starbucks over the past year, alleging a litany of "unfair labor practices" by the Seattle-based coffee chain. The union Workers United has organized well over 200 stores around the country since December 2021. None of the chain's corporate-owned stores were organized until the effort began in Western New York.
Requests for a bargaining order tend to be reserved for what officials consider egregious cases of labor law violations. The NLRB's prosecutorial arm has only sought such an order in one other Starbucks case, involving a store in Hamburg, New York, which was among the first to hold an election. Workers there voted 12-8 against the union.
On the whole, the union campaign, known as Starbucks Workers United, has put up strong numbers on store elections, winning 80% of the votes held through mid-December, according to recent data from the NLRB. The campaign prevailed in 269 elections and lost just 63. The company has around 9,000 corporate-owned stores.
"This complaint highlights the worst of Starbucks' anti-union tactics."
Starbucks Workers United said in a statement that Starbucks was trying to "bully their way out of a union campaign."
"This complaint highlights the worst of Starbucks' anti-union tactics, from firing union leaders to interrogating workers about their union activity," the campaign said. "We are glad to see that the NLRB is pursuing a bargaining order for this store, a necessary remedy in a situation like this."
Starbucks Workers United has accused the company of illegally firing dozens of union organizers since the campaign began. Many of those terminations have been the subject of NLRB complaints, and in some cases board officials have gone to federal court seeking injunctions to put workers back on the job. A group of fired workers known as the Memphis 7 were reinstated by court order last year.
In the Estero case, Cohen said that a bargaining order for the store was appropriate because workers had made their desire for a union clear when a majority signed union cards. That occurred before the company fired a lead organizer and threatened to withhold raises and benefits, he argued.
The labor board's progressive general counsel, Jennifer Abruzzo, has pledged to make wider use of bargaining orders against employers. In 2021, the Biden appointee issued a memo to the agency's regional directors recommending that they pursue the orders wherever they seem justified, one of several moves she's made that have rankled employers.
"It is so important that we utilize every possible tool we have to ensure that those wronged by unlawful conduct obtain true justice," Abruzzo said at the time.
Article/Image(s) Courtesy of Google News