Associate Organizer : Alabama, Arkansas, Florida, Georgia, Kansas, Kentucky, Louisiana, Mississippi, North Carolina, Oklahoma, South Carolina, Tennessee, Virginia, Puerto Rico, U.S. Virgin Islands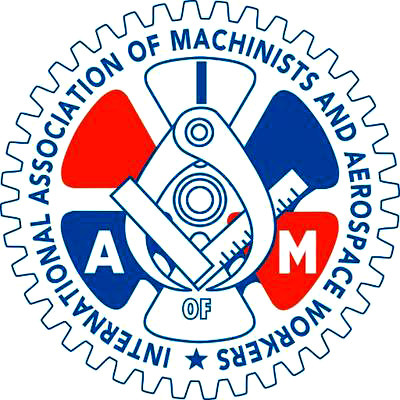 IAMAW
International Association of Machinists and Aerospace Workers

Associate Organizer
Based in the Southern Territory
(AL, AR, FL, GA, KS, KY, LA, MS, NC, SC, OK, TN, VA, PR and VI)
Position Title: Associate Organizer
Location: Various – Alabama, Arkansas, Florida, Georgia, Kansas, Kentucky, Louisiana, Mississippi, North Carolina, South Carolina, Oklahoma, Tennessee, Texas, Virginia, Puerto Rico and the Virgin Islands
Salary Range: Competitive salary, plus single/family medical and dental benefits, per diem, mileage, hotel and travel expense reimbursement
Job Summary
The Southern Territory of the International Association of Machinists & Aerospace Workers (IAM), based in Arlington, Texas, is seeking experienced Associate Organizers with a proven track record of running successful organizing campaigns. This is a full-time position. There are several openings available in the Southern states of Alabama, Arkansas, Florida, Georgia, Kansas, Kentucky, Louisiana, Mississippi, North Carolina, South Carolina, Oklahoma, Tennessee, Texas, Virginia, Puerto Rico and the Virgin Islands.
The primary function of an Associate Organizer is to conduct successful organizing campaigns, and effectively increase the membership size of the IAM Southern Territory. Associate Organizers are responsible for establishing and conducting internal and external organizing campaigns by establishing meaningful connections with potential members, establishing and overseeing workplace committees, making home and job site visits, performing worker assessments, and using various platforms to educate workers. She/He/They will be expected to target issues, identify workplace leaders and recruit them as campaign advocates, and inspire workers to use collective action to solve workplace issues. Associate Organizers perform assessments and plan campaigns implementing the IAM Organizing Model. This position requires long and varied hours, with early morning, evening, and weekend work as well as travel, including overnight stays.
Summary of Responsibilities:
Plan, develop, and implement an organizing plan.
Develop broad, representative organizing committees of worksite leaders, and train them to facilitate worksite organizing campaigns.
Assist with executing campaigns around workplace issues, including but not limited to: wages, health benefits, retirement benefits, worker health and safety, privatization, outsourcing/subcontracting, budget cuts, contract negotiations, etc.
Visit job sites and homes to communicate with workers for the purpose of organizing.
Assist bargaining unit employees in aspects of employee/employer labor and employment relations for the purpose of internal organizing.
Provide recommendations for the development of various communication plans, designed to increase outreach to members and union officials, including, but not limited to, flyers, direct mailings, text/email campaigns, websites, social media, etc.
Plan, develop, coordinate and execute various organizing events, including, but not limited to, meetings, rallies, house calling, phone banking, etc.
Promote and recruit bargaining unit employees into organizing committees.
Work to build coalitions with community groups and organizations.
Ability to coordinate several projects simultaneously.
Properly handle confidential and time sensitive information and documents.
Perform other duties as assigned.
Education, Experience, and Special Requirements
Must possess a High School Diploma and strong knowledge of the collective bargaining process, labor relations and at least three (3) years of demonstrated success in running internal and external union organizing campaigns in the public and private sectors. Experience working in a union environment is required. Bilingual (Spanish) skills are desirable, but not required.
Knowledge, Skills, and Abilities
Strong commitment to workers' rights, labor advocation, and labor activism;
Exceptional attention to accuracy and detail is required;
Strong strategic, problem solving, and critical thinking are necessary;
Strong organizational and time management skills;
An understanding of workforce diversity;
Ability to handle multiple projects simultaneously, prioritize competing tasks and manage work under weekly, monthly and quarterly deadlines;
Demonstrated positive attitude and effectiveness in working independently and in a team environment;
Adept interpersonal relationship skills to work harmoniously with IAM Headquarters, District and Local staff, management, union leaders, and affiliates;
Strong work ethic, self-motivation and strong leadership skills are essential;
Excellent written and verbal communication skills, strong listening skills, ability to compose correspondence and verbally convey information clearly;
Ability to utilize various social media platforms and other technology to develop narratives for organizing campaigns and leverage technology to reach the desired outcome;
Must be a self-starter;
Intermediate level experience with Microsoft Office and video conferencing applications is required;
Must have access to a reliable vehicle;
Must possess a valid state driver's license
To Apply:
Please submit your résumé and cover letter to Craig Martin, Chief of Staff, IAM Southern Territory at cmartin@iamaw.org.
Position will remain open until all available openings have been filled.
We are an equal opportunity employer, and strongly encourage all those qualified and interested to apply.
WHEN APPLYING: Be sure to indicate that you saw this information at UNIONJOBS.COM.
WHEN APPLYING: Be sure to indicate that you saw this information at UNIONJOBS.COM.
Job Posting Courtesy of UnionJobs.com