Director of Communications : Washington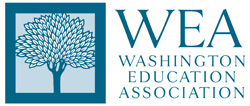 Washington Education Association
Director of Communications
Based in Federal Way, WA
(WEA Headquarters)
The Washington Education Association is seeking applicants for the position of Director of Communications. This position is based out of Federal Way, WA – the WEA Headquarters location. A job description is included below. This position is currently available to internal and external applicants.
To be considered for this position the following documents are required:
Cover letter
Updated résumé reflecting qualifications for this position
Signed WEA application form
Three (3) professional letters of reference
A writing sample provided at the time of the interview. Prior research is not required.
Washington Education Association application forms are required and may be obtained by selecting Online Application located at the end of this document. If you experience any problems with the online application process, please contact Karen Knight at the phone or email address shown below.
The deadline for receipt of cover letter, résumé, signed application and letters of references is on or before 5:00 pm, April 9, 2021. If you do not submit your application and materials online (preferred method), please email, fax, or mail materials to:
Washington Education Association
Attn: Karen Knight, HR Generalist
PO Box 9100
Federal Way, WA 98063-9100
FAX (253) 946-4726
Phone: (253) 303-1477
kknight@washingtonea.org
The Washington Education Association is committed to a diverse, equitable and inclusive workplace where the contributions of each employee are respected as part of the work performed on behalf of 90,000+ WEA members in public education. WEA embraces employees with varied backgrounds and life experiences, including race, ethnicity, gender, age, socio-economic status, sexual orientation, gender identity, physical ability, and veteran status. Only those candidates who can commit to promoting diversity, equity and inclusiveness need apply.
ABOUT THE WASHINGTON EDUCATION ASSOCIATION
The Washington Education Association, as part of the National Education Association, is an educator union representing more than 90,000 plus certificated teachers and education support personnel. The Washington Education Association was founded in 1889 and is the largest representative of public-school employees in Washington State.
It is WEA's goal to build confidence in public education and increase support for Washington's public-school system. WEA is recognized as the voice of public educators in Washington, advocating for quality public education, working conditions, professional pay, and respect for those responsible for educating public school students, K-12 and High Education.
WEA's organizational objectives include: • Increasing WEA members' and employees' professional status and job satisfaction. • Improving the quality of and access to public education for all students. • Ending institutionalized racism and bias in public education. • Increasing the participation of individuals from historically underrepresented groups in all aspects of WEA activities. • Forging partnerships with parents, business, other unions, and community groups. • Promoting a just and inclusive society with respect for the worth, dignity, and equality of every individual.
THE STRUCTURE OF THE WASHINGTON EDUCATION ASSOCIATION
The structure: WEA is made up more than 90,000 members, organized by way of 290+ Local Associations, 22 UniServ Council Offices, and the WEA Headquarters. In terms of governing structures, the WEA Representative Assembly of more than 1100+ participants help sets the overall strategic direction for the WEA working in conjunction with the WEA Executive Committee, and the WEA Board of Directors, a board made up of 85+ WEA member-leader volunteers from around the state.
From an operational standpoint, the WEA employs 180+ bargaining unit and non-bargaining unit staff and management assigned to WEA HQ, and our field operations (UniServ Council—a staffing model made up of WEA assigned staff and Council governance). Current WEA departments and centers include: The Advocacy and Organizing Center, the Legal Department, the Communications Department, the Accounting Department, the Center for Education Quality, the Government Relations Department, Human Resources, Information Technology and Facility Departments, and the soon to be created Center for Racial, Social and Economic Justice.
Communications Director profile
Direct the statewide operation of the Washington Education Association's Communications and Public Relations Center. Manage the day-to-day functions of our progressive, action-oriented and member-driven communications team. Develop and help manage the department's $2.7 million-dollar annual budget.
Develop and implement strategic internal and external communications plans and campaigns for our 90,000+ members and education stakeholders around our state. Work encompasses member communications, marketing, public relations, advertising, media relations, social media, online, digital and emerging media.
Serve as a WEA management team member and participate in overall management of the Association.
Advise governance leaders and management on communications and public relations strategies. Support the association president, board of directors, and local union leaders with media training, talking points and messages, presentations, op-eds and speeches.
Oversee seven professional staff who work in media relations, digital content, web support, member organizing, photography and videography, print and digital publishing, customer relations content management and communication data systems.
Work with communications staff to develop and implement strategic communications plans that integrate earned and paid media, social-media, online and print tools. Plans include benchmarks and metrics to measure success.
The ideal candidate to be able to develop a communications strategy that will reinforce WEA's commitment to racial, social, and economic justice, including capturing the authentic voice of BIPoC members, communities of color and other marginalized/historically underrepresented groups of people.
Ability to develop and deliver publications and messaging which demonstrate WEA's appreciation for diversity and equity, connecting authentically with communities of color, historically underrepresented groups of people, and other marginalized people both within the WEA and public education, and our communities at large.
Work collaboratively with managers and staff from several other departments to support ballot initiatives, legislative goals, political campaigns, policy development, local collective bargaining, educator professional development, membership retention and other union-related actions.
Package content and implement integrated communications strategies to engage union members in achieving strategic goals. This includes targeting efforts with social media, email, web communications, print and direct mail, TV and radio advertising.
Employ market research, focus groups, Customer Relations Management software to target relevant and effective messages and tactics to meet audience needs.
Work in conjunction with outside consultants including but not limited to pollsters, media firms, ad agencies and graphic designers.
Write plans, speeches, white papers, messaging, presentations, member communications and other materials as needed.
Conduct training sessions and/or provide appropriate counsel to Association leaders on communications, media and public relations issues.
Manage staff to include hiring, evaluating, mentoring and coaching in a collective bargaining setting.
Minimum requirements and essential job functions
The WEA is open to the consideration of a wide-variety or combination of skills, experience, education, talents, aptitude and abilities to meet the essential functions, requirements and/or preferences of the position. In some cases, WEA may provide growth and development opportunities for candidates who may not currently possess some of the identified qualities, through on the job training or similar concepts. It should be noted that the hiring process at the Washington Education Association and for this position are expected to be highly competitive.
Bachelor's degree in journalism, communications, public relations, public affairs, marketing or related field. Commitment to diversity, equity and full inclusion in employment and governance within WEA and in our public education system.
Demonstrated commitment to public education, labor, equity, diversity, and related progressive causes.
At least 7 years' experience in communications, public relations or related field in positions of increasing responsibility including positions guiding strategic planning and/or directing other team members.
Proven experience in developing communications plans, setting strategy and executing plans with measurable successes.
Experience with local and large-scale organizing campaigns.
Experience in developing integrated communications strategies to advance organizational goals through a variety of media.
Excellent presentation skills and experience in speaking/presenting in front of groups larger than 50.
Excellent written and verbal communication skills.
Strong working knowledge/experience of social media and emerging platforms and communications tools.
Ability to think strategically and translate organizational goals into integrated communications strategies and tactics.
Ability to develop relationships with external communities, including labor, communities of color, and other progressive organizations and news media.
The ability to think creatively to translate organizational goals into eye-catching, original strategies that generate buzz in traditional and social media.
Ability to work well work well in a team environment, handle multiple priorities under pressure, respond to tight deadlines and answer to numerous stakeholders with competing needs.
Three or more years of demonstrated experience managing employees.
Experience developing and recommending a communication budget.
Ability to develop and maintain cooperative workplace relationships with a diverse group of employees, managers/directors, governance and WEA leaders.
Strong working knowledge of Microsoft Office, including PowerPoint, and/or Adobe Creative Suite products.
Strong understanding of audience identification and analysis, including experience in using polling and research to craft messages.
Ability to work collaboratively with the communications team, and to foster and encourage a creative work climate.
Experience in making communications media and tools accessible to a variety of audiences, including hearing impaired and people whose first language is other than English.
Ability to travel within and outside the State of Washington using a variety of transportation modes.
Preferred job requirements
Experience developing a vision for new or expanded communications strategies and programs.
Experience in and knowledge of public education, racial, social, and economic justice, and labor issues within the State of Washington and/or nationally.
Experience working for or within a non-profit setting.
Graphic design skills and knowledge.
Experience with paid advertising campaigns including work with ad agencies on creative development and media placement of TV, cable, radio, social media, digital, direct mail and newspaper ads.
Senior level management experience in a union environment.
Government agency, public sector organization or non-profit.
Experience and/or knowledge of the political process and political strategy planning at the federal level and/or within the State of Washington.
Experience working in a progressive, member-driven environment.
Experience developing and conducting communications/media/public relations training.
Compensation
The WEA offers an annual salary range of $165,000 to $175,000.
Additionally, the WEA offers 100% employer-paid medical, dental, vision and life insurance benefits, Defined Benefit (Pension) and Defined Contribution (401(k) plans, and generous vacation and sick leave benefits.
Application procedure and references
In order to be considered for this position, a completed and signed WEA application form including résumé, cover letter, and three (3) professional letters of reference must be received on or before April 9, 2021. Reference information must include current mailing and email addresses, telephone numbers, contact names and the reference's relationship to the applicant.
WHEN APPLYING: Be sure to indicate that you saw this information at UNIONJOBS.COM.
Job Posting Courtesy of UnionJobs.com