Special Assistant to the Executive Director Team : California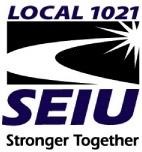 SEIU Local 1021
Special Assistant to the Executive Director Team
Based in Northern California
SEIU Local 1021 was founded in 2007 when 10 local unions came together in northern California to form one larger, more powerful union. Together our members are building a true 21st century union fighting to empower and improve the lives of our members. We are 60,000 strong—organizing and representing public service workers in cities, counties, courts, schools, private non-profits, special districts, public health care, and nursing. We are looking for energetic, hardworking staff who are committed to real change, who believe in the value of work and the value of public services, and who want to be part of the team that wins for workers, their families, and their communities.
LOCATION: Northern California
RESPONSIBILITIES: Reporting to the Executive Director (Lead Director), this position assists, advises and coordinates key projects and activities for the Local as assigned by the Executive Director and Deputy Executive Director; some duties include:
Provide ongoing scheduling, travel, logistics and other support for the Executive Director and Deputy Executive Director.
Coordinate, supervise, track and report on the conduct of union elections including project management of the local-wide election.
Coordinate and assist various Executive Board committees as assigned.
Track and report on representation/arbitration cases and assist appeals process.
Provide authoritative interpretations of bylaws and policy statements.
Maintain standardized reporting systems in coordination with senior staff.
Troubleshoot varied and complex problems applying strategic analysis.
Assist in resolving member complaints.
Assist with confidential personnel matters.
Prepare reports and presentations.
Other duties as assigned.
Skills and Attributes:
Progressive, strategic, bold, and creative.
Well organized, self-motivated and organizational.
Works effectively as part of a team.
Excellent judgment while working under extreme pressure.
Excellent written and oral presentation skills.
Ability to interpret policy and contractual documents.
Demonstrates competency working with people from diverse backgrounds and cultures.
Dedication to improving the condition of working people and strengthening the role of organized labor in society through worker action and political activity.
Preferred Experience:
Experience representing and/or supporting an executive(s).
Substantial professional experience organizing working class people towards change.
Demonstrated ability to think and act strategically.
Special Requirements:
Willingness to work irregular and long hours, including weekends and holidays, to attend required evening and weekend events/meetings
Extensive travel may be required, primarily within Northern California.
Driving Requirements:
Must possess a valid California driver's license; pass a DMV check, and have a good driving record
Have auto insurance that covers business driving (minimum of $100,000 per person/$300,000 per incident bodily injury liability/$50,000 property coverage); and must possess an automobile for business use.
Salary and Benefits: Salary starts at $99,431 and is based on qualifications and experience. SEIU Local 1021 offers a competitive and comprehensive benefits package. Including fully employer-paid family health coverage (including domestic partners), life insurance, a defined-benefit pension plan, 401(k) plan, and generous paid leave time.
To Apply: Mail or email a cover letter. Include a detailed résumé and the names, addresses, and phone numbers of three (3) references to: Human Resources Coordinator, SEIU Local 1021. Mailing address: SEIU Local 1021, 447 29th Street, Oakland, CA 94609, or email your résumé to: jobs@seiu1021.org. Indicate the position you are applying for in your cover letter. This position is open until filled; however, the posting/acceptance of applications may close at any time. No phone calls, please.
Hiring: We are committed to hiring staff who reflect our membership and model the unity and equity that we seek to create in our country. For example, women, LGBTQI, people of color, and immigrants are strongly encouraged to apply.
Equal Opportunity Employer: SEIU Local 1021 is an equal opportunity employer and encourages applications from qualified candidates of all races, ethnicities, ages, sexes, sexual orientations, marital statuses, religions, or who have a disability. Local 1021 is committed to ensuring fair treatment of applicants and employees and actively enforces policies against discrimination and sexual harassment.
WHEN APPLYING: Be sure to indicate that you saw this information at UNIONJOBS.COM.
Job Posting Courtesy of UnionJobs.com