Deputy Country Program Director : Mexico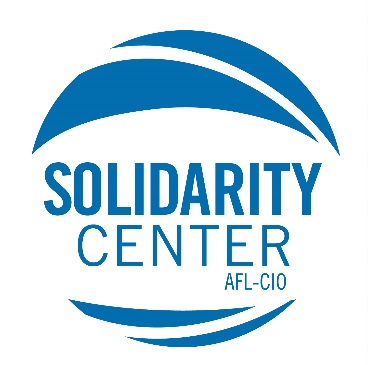 Solidarity Center
Deputy Country Program Director
Based in Mexico City, Mexico



(
Due to the global health crisis, deployment to Mexico will be contingent upon the lifting of travel restrictions and
confirmation of safe conditions on the ground.)
Anticipated Start Date: June 1, 2021
Deadline to Apply: Until Filled
Location: Mexico City
Solidarity Center seeks a highly organized program manager with international experience and a commitment to worker rights to serve as Deputy Country Program Director (Deputy or DCPD) in Mexico. The Deputy must have sound judgment and political sense that facilitate decision-making, particularly when the Country Program Director (CPD) and headquarters cannot be reached for consultation. This individual also must be conversant in the political, economic, social, and trade union developments in the country. This position requires a strong knowledge of US Government funding regulations and procedures around grant management, including budgeting and reporting.
The Deputy should be comfortable and competent in areas related to human resources and field operations in order to support the CPD with administrative tasks. This individual also helps design and implement field programs that address the needs of our partner trade unions and the AFL-CIO. This includes writing and editing concept papers and proposals and seeking funding for programs. This individual helps to monitor programs for progress and budgetary compliance. This individual may be assigned primary responsibility for implementing and monitoring specific programs within the country portfolio. The Deputy liaises with the CPD on significant developments in the country through meetings, reports and other communication. In the absence of the Country Program Director, the Deputy represents Solidarity Center and assumes full management responsibility for the office and country staff.
The Deputy supports the CPD's work with AFL-CIO affiliates, the ICFTU and its regional organizations, and global union federations, to facilitate their participation in Solidarity Center programs. The Deputy provides logistical support for visitors from the Solidarity Center, AFL-CIO, affiliates, GUFs, donor agencies, and/or other organizations. This individual may be required to travel extensively within the region and can fill in for CPDs on a temporary basis.
The Deputy assists the CPD to ensure compliance with Solidarity Center policies, US regulations governing grants, and host-country law. At the direction of the CPD, the Deputy develops and maintains relationships with personnel at the USAID mission and US Embassy, including completing requisite reporting requirements regarding Solidarity Center work. With the CPD, the Deputy works to ensure that USAID and the Embassy understand organized labor's role in the development process and how Solidarity Center programs contribute to their strategic objectives.
Basic Qualifications:
Experience with organizing and collective bargaining
Ability to work independently and with limited supervision
Knowledge of international relations and trade union, socio-economic and political developments in the U.S. and abroad
Previous trade union experience, and/or experience in the Center as a Program Officer III or Senior Program Officer
Capacity to manage multiple assignments simultaneously and make decisions that have major effects on costs and completion of projects
Bachelor's degree in political science, international relations, labor relations or related fields and/or five years equivalent work experience
Good communication and writing skills
Computer literacy for word processing and simple spreadsheets
Good interpersonal skills
Fluency in written and spoken Spanish and English
Supervisor: Regional Program Director, Americas
Specific Duties:
Assist the CPD in managing the field office;
Under the direction of the CPD, supervise local-hire staff;
Ensure compliance with Solidarity Center and AFL-CIO policies and procedures, applicable donor and federal government regulations, and host-country law;
With the guidance of the CPD, design, develop and implement country or regional programs that respond to the strategies, goals and objectives of the donors, the AFL-CIO and the Solidarity Center's partners in the field.
Initiate concept papers and program proposals and seek funding for same;
Prepare timely, well-written reports in accordance with the deadline schedule;
Monitor program performance and results as assigned by the CPD; discuss substantive changes required with CPD/Program Officer/Regional Program Director;
Monitor program expenditures to meet budget targets;
At the direction of the CPD and within approved communications guidelines, work closely with AFL-CIO affiliates to coordinate their participation in Solidarity Center programs;
Manage the logistics for field trips by Solidarity Center, AFL-CIO and affiliate personnel as requested;
Under the direction of the CPD, develop relations with US government personnel in country to ensure they understand the role of labor in development and of Solidarity Center programs in the context of their strategy;
Share information on country conditions and labor issues as appropriate;
Provide assistance and support for program evaluations or audits of field projects/offices;
Travel on a TDY basis to conduct and/or oversee program development and implementation in other countries in the region; and
Guided by CPD, develop coalition-building contacts with national and international labor, government and non-governmental organizations in the country or region.
The duration of this position, while contingent upon continued grant funding, is anticipated to last from three to six years, with the option to transfer to another post at the end of the assignment.
As part of the collective bargaining unit, this position is generously compensated with an annual salary starting at around $88,500, which may be subject to U.S. foreign earned income tax exclusion for US citizens (please consult a tax professional to verify). A robust benefits package includes excellent health and life insurance, a retirement plan/pension, and ample paid time off for holidays, vacation, and sick leave. In addition, as an expatriate position, the Deputy Country Program Director is entitled to housing, relocation expenses, annual home leave, and an education allowance for dependents.
Apply HERE!
The Solidarity Center cultivates the values of diversity, equality, and inclusion among its staff and partners. It does not discriminate on the basis of race, color, religion, sex, sexual orientation, gender identity, national or ethnic origin, age, marital status, disability, veteran status, or any other status protected under applicable law. Candidates from traditionally underrepresented groups are strongly encouraged to apply.
WHEN APPLYING: Be sure to indicate that you saw this information at UNIONJOBS.COM.
Job Posting Courtesy of UnionJobs.com