UniServ Director – Seattle Education Association : Washington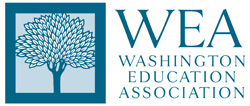 Washington Education Association

UniServ Director
Seattle Education Association
Based in Seattle, WA
The Washington Education Association is seeking applicants for the position listed above. A job description is included on the following pages. This position is currently available for internal and external applicants.
To be considered for this position the following documents are required:
Cover Letter

Updated résumé reflecting qualifications for this position

Signed WEA application form

A list of three professional references (w/contact information and relationship to applicant)
Washington Education Association application forms are required and may be obtained by selecting 'Online Application' located at the end of this document. Applications may also be obtained at the Washington Education Association located at 32032 Weyerhaeuser Way South, Federal Way, WA 98001, or by calling Human Resources at 1-800-622-3393 extension 7002.
The deadline for receipt of cover letter, résumé, signed application and references is on or before 5:00 pm, January 23, 2020. If you do not submit your application and materials online (recommended), please email, fax, or mail materials to:
Washington Education Association
Attn: Karen Knight, HR Generalist
PO Box 9100
Federal Way, WA 98063-9100
FAX (253) 946-4726
Phone: (253) 765-7002
kknight@washingtonea.org
The Washington Education Association is an equal employment opportunity employer. It is the desire of the Washington Education Association to interview applicants from an applicant/interview pool that reflects the diversity of the greater community for each vacancy as it occurs.
Job Description: UniServ Director – Seattle Education Association
Council Description: The Seattle Education Association (SEA) is a diverse 6,000-member local comprised of certificated, paraprofessional, and office professionals – including substitutes – who work for Seattle Public Schools.
SEA is a member-driven organization that works with a high degree of collaboration and teamwork between SEA staff and leaders. Labor relations problem solving with the Seattle Public Schools administration spans the continuum of adversarial to collaborative with the goal being the consistent use of interest-based issue resolution.
The Association supports our member-driven and member-led Center for Racial Equity and is committed to developing a culture of opportunity for all – devoid of racism. The foundational work for the SEA Center for Racial Equity is to connect member leaders to coach, train, and build systems within SEA and SPS to dismantle racism and its impact on our members and greater SPS community.
SEA has successfully reoriented the culture of the Association to be one of converting advocacy events into organizing opportunities. Association leadership and staff facilitate a high level of member participation and leadership development.
Location: The position is assigned to work out of the Seattle UniServ Council office located at 5501 4th Ave. South, Suite #101, Seattle, WA.
Supervision: The successful applicant will function as a member of the Seattle Education Association staff and the Advocacy Center of the Washington Education Association. The UniServ Director shall report to the Executive Director of the Seattle Education Association.
Job summary and essential job functions
Responsibilities:
Support and advance the SEA and SEA/WEA mission, goals, core values and priorities

Assist the Association in developing and implementing the systems, programs and organizational strategies that create a member-driven culture of organizing

Assist the SEA in developing and delivering dynamic organizing trainings for leaders, members and staff to support organizing campaigns

Organize to build a strong union at every worksite consistent with the goals of SEA and WEA

Assist the organization in building and exercising power at the state and local level

Establish and maintain positive working relationships with SEA Council leadership, local leaders, staff, and WEA management

Provide counsel and advice to leadership and members utilizing coaching strategies for the development of leaders and members

Work collaboratively with staff, work teams, district administration and community groups where appropriate

Facilitate organizational change by involving members and leaders in advocacy based on the values and mission of SEA

Serve as staff liaison to Association committees as assigned

Participate in WEA shared staffing assignments, including assignments throughout the state of Washington

Regularly attend and participate in WEA staff meetings

Complete other duties as assigned
Minimum job requirements
Bachelor's Degree or comparable experience

Recognizes and confronts racism in organizations and institutions; seeks resources and plans actions to dismantle racist structures

Ability to compose documents under pressure; strong ability to communicate verbally, in writing and through various media

Ability to think creatively to resolve problems, issues, and conflict

Demonstrated successful experience in:

Developing a member-driven, organizing culture

Knowledge of traditional, collaborative and interest-based, problem-solving

Contract maintenance and grievance resolution

Designing, developing, delivering and helping others execute organizing plans

Problem-solving and other mediation of sensitive interpersonal situations

Working with diverse groups and individuals

Contributing to high performing teams

Supporting personal and professional development of others

Coordinating personal workloads and schedules in a fast-paced working environment

Strong work ethic

Providing cross-organizational support to other areas of the organization

Utilizing reflection and feedback for personal and professional development

Proficient computer skills and experience in, but not limited to, word-processing and online research

Ability to work independently in a self-directed and efficient manner, maintaining calm under pressure

Ability to travel both in and outside the state of Washington.

Ability to obtain a valid Washington State driver's license, have a satisfactory driving record and a dependable automobile for Association travel; proof of automobile insurance with liability limits of at least $100,000/$300,000 required

Willingness to take temporary assignments in other state locations as required
Preferred job requirements
Experience as an education employee or working directly with education employees

Staff or Association leader experience in education associations, local, state or national school employee organizations, or professional organizations

Five or more years working as an organizer in a union setting

Five years or more working addressing issues of racial equity

Five or more years' experience with internal, new member and community organizing

Knowledge of special programs, e.g., special education, bilingual or gifted

Experience in facilitating organizational change
Salary range and benefits:
Annual salary range: Level V (E) – $106,120 to $151,368
Benefits:
Medical, Dental, Vision and Life Insurance

Generous Sick and PTO (Paid Time Off)

Long-Term Disability

Defined Benefit Plan

Defined Contribution Plan (401k) (w/employer contribution)

Covered by the WEA/WEASO Collective Bargaining Agreement
Application procedure and references
In order to be considered for this position, a completed and signed WEA application form – including resume, cover letter and a list of three professional references (including contact information – i.e., email addresses and phone numbers) from associates who have professional knowledge of your background and work experience – must be submitted to WEA Human Resources on or before January 23, 2020. We encourage you to use the online application process.
Important Note: When submitting your application materials online, select "Save as Draft" until you have all materials together and ready to be attached and uploaded – i.e., application, cover letter, résumé and a list of three professional references. This will ensure your application materials remain together as a single submission.
WHEN APPLYING: Be sure to indicate that you saw this information at UNIONJOBS.COM.
Job Posting Courtesy of UnionJobs.com