Senior State Policy Coordinator – Economic Analysis and Research Network : District of Columbia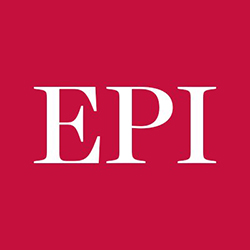 Economic Policy Institute
Senior State Policy Coordinator
Economic Analysis and Research Network
(EARN)

Based in Washington, DC
About the Economic Analysis and Research Network (EARN): EARN is a nationwide network of state-based research, policy, and advocacy organizations fighting for an economy that works for everyone. EARN partners constitute the core progressive research and policy infrastructure for shaping and promoting a better economic future in the states. EARN is coordinated by staff at the Economic Policy Institute and EARN partners.
EPI seeks a dynamic and skilled person to join our EARN team as the Senior State Policy Coordinator to advance EARN's programs and policy campaigns, help lead our new EARN in the South program, and provide programmatic support and technical assistance to EARN state partners. We are seeking someone with 7 to 10 years' experience working on economic justice campaigns at the state level who has a deep understanding of the role structural racism plays in economic outcomes.
What You Will Do
In consultation with the EARN Director and Deputy Director, build and maintain strong relationships with EARN partners:

Coordinate cross-state work groups on key economic justice issues.

Develop, coordinate, and facilitate issue webinars for EARN partners.

Identify new issue areas for collaboration.

Disseminate the policy, research, and advocacy work of EARN partners and EPI.

Respond to technical assistance requests, in coordination with EARN/EPI staff.

Coordinate with state and national allies on EARN issue priorities.

Help coordinate EARN in the South, a new project intended to create a cross-state agenda for inclusive and equitable economic progress in the South.

Help design and administer grant process for EARN in the South partners.

Help facilitate EARN in the South planning sessions.

Develop a series of EARN in the South webinars to facilitate cross-state sharing of best practices and policy, research, and advocacy strategies.

Monitor relevant state and local policy issues and emerging trends by tracking state and local policy proposals.

Analyze state legislation.

Prepare fact sheets, memoranda, and other policy products.

Share trends and best practices with EARN partners and allies.

Represent EARN/EPI in outreach activities to EARN partners, policymakers, and state and national partner organizations, including grassroots networks and labor unions.

Prepare issue resource packets, written reports, issue briefs, fact sheets, op-eds, blog posts, and other documents accessible to multiple audiences.

Assist in planning and staffing EARNCon, EARN's annual conference for state partners and allies.
Who You Are
Ideally, you have 7–10 years' experience. We do not expect that every candidate will have this full range of experience, but the following qualities and experience are highly desirable:
Experience with and demonstrated commitment to economic justice and racial and gender equity

A campaigner's or organizer's mindset

Experience with state-level policy research and advocacy, and an understanding of state policy and legislative process; ability to read and analyze policy language

Strong demonstrated project management skills and the ability to manage several projects at once

Familiarity with a diverse set of economic policy issues
Demonstrated coalition-building skills
Self-motivated and able to work independently, but also able to collaborate and work as part of a team and with diverse partners

Excellent organizational skills, with the demonstrated ability to drive projects to completion

Comfort with representing the organization at meetings and events

Excellent written and oral communication skills and ability to create materials for a wide range of audiences

Experience working in a labor union, advocacy organization or public agency focused on economic justice, workers' rights, or labor law and policy

Experience using Microsoft Word and Excel. Knowledge of WordPress a bonus

Willingness to handle occasional long hours and travel
About EPI
EPI conducts research and analysis on the economic status of working Americans and their families and proposes policies to protect and improve their economic well-being.
Salary/Benefits
EPI is a unionized workplace. This position is in the bargaining unit and reports to the EARN Director.

The salary for this position ranges from $80,000 to $90,000, dependent on experience, plus benefits.

EPI offers an excellent benefits package, including generous paid time off, as well as retirement contributions, medical, vision, dental, short- and long-term disability, and life insurance.

EPI is an Equal Opportunity employer fully dedicated to achieving a diverse staff. All qualified candidates are encouraged to apply and will receive consideration for employment without regard to race, sex, sexual orientation, age, religion, national origin, marital status, veteran status, disability, or other categories protected by law.
To Apply
Candidates should send a cover letter highlighting their relevant experience and explaining their interest in working at EPI and résumé to jobs@epi.org. Applications will be accepted on a rolling basis until the position is filled. Applications without a cover letter will not be considered.
WHEN APPLYING: Be sure to indicate that you saw this information at UNIONJOBS.COM.
Job Posting Courtesy of UnionJobs.com