Director – Homecare Supplemental and Benefit Trusts : Oregon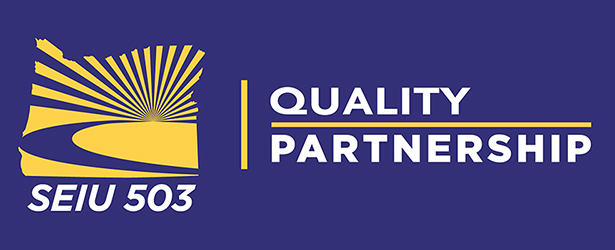 SEIU Local 503
Director
Homecare Supplemental and Benefit Trusts
Based in Portland, OR
Organizational Overview
The mission of the Quality Partnership is to empower and support Oregon's homecare and personal support workers by delivering exceptional, integrated training and benefits.
Through their union, SEIU 503, Oregon's homecare and personal support workers have won access to:
Dental, Vision, Employee Assistance Program and Paid Time Off benefits, administered by the Oregon Homecare Workers Benefit Trust

Assistance paying premiums and out-of-pocket expenses relating to Medicare and Qualified Health Plans on the Marketplaces, administered by the Oregon Homecare Workers Supplemental Trust

State-funded professional training beginning in 2020, administered by the SEIU 503 Training Partnership
Position Summary
Reporting to the Executive Director, the Director will be part of a team of professionals who help deliver the benefits of three Trusts. The Director coordinates all aspects of the Supplemental and Benefit Trusts, including benefit enrollment, Trust benefit plans, governance, and administration in conjunction with the Board of Trustees and vendors. This position interacts with a board of trustees that consists of union members and employer representatives, and must have a general understanding of unions, collective bargaining, and the value of workers organizing together. This leader will apply service expertise to help advance long-term care jobs as good jobs and work to prevent the coming care crisis. Everyday, 10,000 Americans turn 65. Over the next decade, demand for long-term care workers will grow to more than 2 million jobs nationwide making home care America's "top job." Yet, this "top job" is too often characterized by limited benefits, no retirement security, high on-the-job injury, and no career advancement opportunity. Leaders in Oregon have taken the first step of dedicating resources to this workforce. This organization serves the growing population of 38,000 workers throughout the state, in all needed languages, ensuring they have access to the benefits needed to stay in the field long-term.
You Will:
Lead the Supplemental and Benefit Trusts (SBT) portfolio which includes budget, planning, success metrics, Board support, vendors, supply/demand forecasting, quality improvement, team, and brand management accountabilities.

Present metrics and state of business reports to the Board Members, state representatives, and other stakeholders.

Manage staff, vendors, and other trust professionals.

Maintain and strengthen professional relationships with internal and external partners including but not limited to the Department of Human Services, Oregon Home Care

Commission, SEIU 503, and consumer advocates.

Prepare annual and quarterly budgets for approval with support from finance staff.

Direct, review, and approve programming interface regarding homecare insurance benefits and coordinate resources to facilitate data requirements

Serve as Supplemental and Benefit Trust Administration spokesperson with internal and external stakeholders concerning implementation and ongoing operations.

Administer services in compliance with state, federal laws, collective bargaining agreements, and similar.

Use data to achieve operational excellence through quality improvement (QI) cycles including goal markers and visuals.

Participate in the overall management and development of the Quality Partnership systems and infrastructure.

Help foster a healthy organizational culture that leads with a focus on equity and inclusion, both in terms of delivery of benefits to participants and internal staff culture

Maintain annual certifications as a community assister with the State of Oregon

Other duties as assigned.
You Have:
A commitment to advancing the voice and conditions of Oregon's homecare and personal support workers

Knowledge of the homecare industry and workforce

Familiarity with health insurance plans, companies, and markets

10+ years of leadership in nonprofit, healthcare, union, government, industry or trade associations

Knowledge and experience with healthcare benefits such as Medicare, Medicaid, and the Affordable Care Act

Ability to evaluate policy and law changes and to apply them to present procedures and revise methods accordingly.

Demonstrated experience in coordinating a complex operation including work with vendors and contractors;

Experience working with board members and other stakeholders in a collaborative

environment

Exceptional people leadership skills with strong track record of direct report experience;

high emotional intelligence

Experience leading services with diverse (cultural, racial, ethnic, class, linguistic) customer base

Experience with fiscal management at $5M+ level

Attention to detail with extremely strong follow through

Strong ability to clearly communicate logic verbally and through writing

Strong critical thinking, problem-solving, and decision-making through ambiguity and change

Strong track record of and enthusiasm for deploying new technology to optimize service

delivery design

Demonstrated commitment to organizational equity and inclusion

Ability to create and maintain strong positive relationships with the Quality Partnership team, employers, caregivers, clients, and union representatives

Readiness to work occasional long hours, weekends, and in-state travel

Must pass a background check and federal authorization process
Application Instructions
Please submit a résumé with three references, a cover letter, and answers to the following questions. Please answer the below questions in no more than three pages total.
Tell us about a time when you administered a benefits or customer-service oriented program. In addition to a summary, please relate how you would take those lessons learned into leading the Supplemental and Benefit Trusts?

This position requires effective leadership skills. Please tell us how you meet those qualifications.

Can you elaborate on your experience working with traditionally underrepresented groups?

What do you anticipate will be the specific challenges in the next three years of Benefits administration for this workforce?
To Apply
Applications should be submitted to: katie.coombes@seiuoregon.org. Confidential inquiries will be honored.
Pay and Benefits:
We have competitive wages and top-notch benefits, including major medical, dental, vision, employee assistance program benefits for ourselves and if applicable our dependents, as well as retirement and leave benefits.
Equal Opportunity Employer:
We are an Equal Opportunity Employer. Our team members are also responsible for conduct consistent with our EEO standards and are expected to demonstrate respect for all coworkers and participants. We also recognize the desirability of increasing employment opportunities for people of color, women, LGBTQQI, people that are bilingual or multilingual, and people with disabilities.
WHEN APPLYING: Be sure to indicate that you saw this information at UNIONJOBS.COM.
Job Posting Courtesy of UnionJobs.com