Director of Member Engagement, Development and Organizing : Minnesota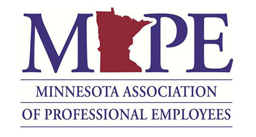 Minnesota Association of Professional Employees
Director of Member Engagement, Development and Organizing
Based in Shoreview, MN
PUBLISH DATE: November 22, 2019
The Minnesota Association of Professional Employees (MAPE) is the premier labor union representing more than 15,000 professionals employed by the State of Minnesota and the Minnesota State colleges and universities system. We are recruiting for a Director of Member Engagement, Development and Organizing to be part of the senior management team; lead the field staff in their dual role of organizing and contract administration; and support member engagement throughout the organization.
About Us
MAPE is dedicated to organizing, developing leaders and building power to change lives for the better. Our mission is to represent members with respect to all terms and conditions of employment, and to advance the interests of our members. MAPE is committed to relational organizing as the primary approach we take to building power for the common good. Relational organizing refers to sustained relationship building and educational process where people come to deeply understand that their own self-interests are closely tied to the self-interests of others in their union and community, and that by acting together, people create power to change things for the better.
MAPE focuses on experimentation (trying new approaches to MAPE's work so that we can quickly learn what actually works) and capacity building (investing in programs to improve MAPE's skills and capacity to act in any environment).
About You
The Director of Member Engagement, Development and Organizing (MEDO) is part of the staff leadership team responsible for implementing the strategies and priorities of the organization, as set by the board. The MEDO Director is responsible for the effective management and oversight of statewide member programs that increase membership and member participation, promote leadership development and oversee the effectiveness of MAPE's representational work. The MEDO director is responsible for the supervision of staff that carry out contract administration and organizing duties. This is an exciting opportunity for someone to reshape the labor movement in a post-Janus world. The ideal candidate is knowledgeable and experienced with representing members in a unionized environment or social justice/community organization; demonstrates the ability to put together and implement leadership development strategies in a member-centered organization; can work independently and in a team; and has the ability to engage multiple stakeholders in a meaningful way.
To Apply
To assure consideration, submit résumé and cover letter (preferably by email) no later than December 23, 2019 to: jobs@mape.org.
An optional job survey form, which can be included with application materials, is available for download below.
Paul Schweizer
MAPE Business Manager
3460 Lexington Ave. N
Shoreview, MN 55126
The Minnesota Association of Professional Employees is proud to be an Equal Opportunity Employer. We strongly encourage people from under-represented groups to apply for this position.
WHEN APPLYING: Be sure to indicate that you saw this information at UNIONJOBS.COM.
Job Posting Courtesy of UnionJobs.com