Full-Time Union Representative / Organizer : California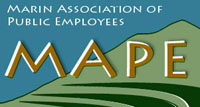 Marin Association of Public Employees

Full-Time Union Representative / Organizer
Based in Marin County, CA

Position Profile
The Marin Association of Public Employees (MAPE) seeks a talented, hard-working person who is committed to building a powerful and democratic union.
Under the direction of the Executive Director, the Union Representative/Internal Organizer will:
Identify and develop member leaders.

Assist member leaders in maintaining a strong Union presence in the workplace and enforcing the collective bargaining agreements, as needed.

Build the capacity of stewards and members to take a more active role in the Union, including training and mentorship.

Educate the membership on their responsibilities and inspire them with the vision of the Union.

Build support for collective bargaining and Union programs.

Work with community groups and other unions to create a positive relationship and public image in Marin County.

Assist in developing campaigns to implement Executive Board vision and policies.

Work with the Executive Board and Political Action Committee to achieve the Union's goals.
The successful candidate for this position will have experience in organizing and in representing workers in grievances, hearings and arbitrations. The candidate will be values-driven, self-motivated and resourceful.
About MAPE
We are an independent union representing 1,300 workers who are employees of the County of Marin. The bargaining units we represent are: Clerical, Trades, Public Services, Technical, H&HS Workers, Public Defenders, and, soon, Nurses. MAPE represents the majority of the employees of the County of Marin, almost all the rank and file workers, representing a mix of workers covering a wide range of jobs, including professional, technical, administrative, and maintenance employees. MAPE also represents full time, part time and temporary employees. Despite Janus, our membership has stayed strong @ 85% membership.
For more information about our union please visit: www.newmape.org
Qualifications

Significant experience as a union staff person performing direct representation work. A candidate with extensive experience as a member leader (i.e. steward, rank and file officer, bargaining team member) will be considered.

Demonstrated dedication to union goals and values.

Commitment to empowering workers through collective action.

Experience in grasping local issues and the political environment.

Familiarity with California public sector unions.

Ability to speak effectively one on one, in small and large groups, and before public agency boards.

Demonstrated ability to write clear concise correspondence, newsletters and grievances.

Ability to motivate and lead workers.

Formal and informal negotiating skills.

Capacity to establish and cultivate relationships with people from diverse backgrounds and different work classifications.

Proficiency in computer applications including email, Word, Excel, Access, PowerPoint and use of the Internet.

Willingness to work long hours, including evenings and weekends, with considerable driving time.

Fluency in a language in addition to English, particularly Spanish, though not required, is desirable.

Must have a car, driver's license and proof of insurance.
Salary and Benefits
Salary commensurate with qualifications and experience within the annual range of $76,760 – $106,632. With 3% increase in July 2019.

Competitive benefit package, mirroring the benefits negotiated for members.
TO APPLY:
To be considered as an applicant, please submit the following:
A current résumé reflecting qualifications for this position

A Letter of Application which addresses how your career accomplishments have prepared you to assume the duties and responsibilities of this position

All materials must be sent electronically to the following:
Margolies and Potterton
WGAW Search Consultants
jpotterton@sbcglobal.net and Kam47@cornell.edu
for further information including confidential discussion about your interest please contact:
Ken Margolies (East Coast) – Jim Potterton (West Coast)
Kam47@cornell.edu – jpotterton@sbcglobal.net
(845) 499-663 – (831) 332-9324
MAPE is committed to Equal Opportunity, and to considering applicants of all ages, races, sexual orientations, national origins, ethnicities, and religions. We encourage people from diverse backgrounds and experiences to apply.
This position is open until filled.
WHEN APPLYING: Be sure to indicate that you saw this information at UNIONJOBS.COM.
Job Posting Courtesy of UnionJobs.com