Senior Development Associate : District of Columbia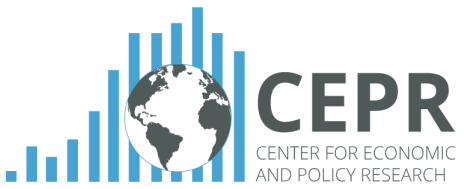 Center for Economic and Policy Research
Senior Development Associate
Based in Washington, DC
The Center for Economic and Policy Research (CEPR) has an immediate opening for a Senior Development Associate. This is a full-time, Washington, DC-based position.
Job Description: The Senior Development Associate is solely responsible for managing CEPR's fundraising activities, including day-to-day operation of development tasks. He/she reports to and works closely with CEPR's Co-directors to assure CEPR's financial strength and sustainability by establishing and attaining fundraising goals. There is promotion possibility to Director of Development.
Responsibilities Include:
Developing short- and long-term development plans, including fundraising goals, strategies and tasks timeline.

Coordinating all fundraising activities, including tracking of proposal and report due dates and next steps.

Identifying and pursuing new sources of income.

Researching, writing and editing grant proposals and reports.

Crafting compelling online solicitation campaigns.

Maintaining active donor and database files. Analyzing donor data.

Keeping donors and foundation contacts regularly informed about CEPR's accomplishments.

Sending acknowledgements and other communications with donors.

Providing accurate and timely development reports to management and the board.
Qualifications:
Outstanding verbal and written communication skills. Need to be able to write compelling solicitation materials as well as technical grant reports and proposals.

Demonstrated initiative and resourcefulness. Self-directed.

Excellent organizational, interpersonal and planning skills.

Willingness to work hands-on in developing and executing a variety of fundraising activities.

Commitment to and ability to articulate the mission and work of CEPR.

At least two years of experience working in a non-profit organization in a fundraising capacity. Must have experience with grant proposal and report writing.

Commitment to progressive economic and social policies

Experience with CRM systems for donation management and email communication, preferably EveryAction or similar.

Bachelor's degree required.
Salary & Benefits: The salary range for this position is $62,746 – $70,000. CEPR provides an excellent benefits package. This position will be represented by the International Federation of Professional and Technical Engineers, Local #70, AFL-CIO.
Applications will be accepted on a rolling basis until the position is filled.
To Apply:
Send the following, in a single PDF file, to: apply[at]cepr.net, with the subject line "Senior Development Associate":
a cover letter;

a résumé; and

two writing samples: a) a section of a grant report or proposal and b) a sample email solicitation for donations
Please do not submit additional information apart from the items listed above. You may address your cover letter to the Senior Development Associate Search Committee if you wish.
If you have any questions, please email apply[at]cepr.net, the contact for the Senior Development Associate Search Committee. Absolutely no calls or faxes.
Organization Description: CEPR was established in 1999 to promote democratic debate on the most important economic and social issues that affect people's lives. In order for citizens to effectively exercise their voices in a democracy, it is necessary that they be informed about the problems and choices that they face. An informed public should then be able to choose policies that lead to an improving quality of life, both for people within the United States, and around the world.
Toward this end, CEPR conducts both professional research and public education so that the public is better prepared to choose among the various policy options. The professional research is oriented towards filling important gaps in the understanding of particular economic and social problems, or the impact of specific policies, both domestically and globally. The public education portion of CEPR's mission is to present the findings of professional research, both by CEPR and others, in a manner that allows broad segments of the public to know exactly what is at stake in major policy debates. As part of its public education initiative, CEPR utilizes research findings and analysis to challenge the myths, assumptions, policies and institutions that perpetuate economic and social inequality.
CEPR's Co-directors are Eileen Appelbaum and Mark Weisbrot. Weisbrot founded CEPR along with Senior Economist Dean Baker.
CEPR is an equal opportunity employer that considers applicants for all positions without regard to race, color, religion, creed, gender, national origin, age, disability, marital or veteran status, sexual orientation, or any legally protected status. Women and minorities are strongly encouraged to apply.
WHEN APPLYING: Be sure to indicate that you saw this information at UNIONJOBS.COM.
Job Posting Courtesy of UnionJobs.com