2020 Summer Legal Internship : District of Columbia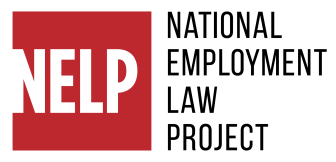 NELP
National Employment Law Project
2020 Summer Legal Internship
Based in Washington, D.C.
The National Employment Law Project (NELP) seeks a law student for our 2020 Summer Legal Internship program in Washington, D.C.
About NELP:
The National Employment Law Project is a non‐profit research and advocacy organization that fights for policies to create good jobs, expand access to work, and strengthen protections and support for low-wage workers and the unemployed. We collaborate with national, state and local allies—including worker centers, community groups, immigrant advocacy organizations, unions, faith-based organizations, policy makers and think tanks—to create good jobs and enforce hard-won worker rights. NELP is one of the country's leading workers' rights organizations, developing innovative policy models, conducting research, educating the public, supporting worker organizing, and engaging in strategic communications. All of NELP's work is built upon a strong commitment to eliminating structural racism. To learn more about us, please visit our website at: www.nelp.org.
The Internship:
With a staff of lawyers, researchers, and policy experts, NELP works in close partnership with lawyers, grassroots organizing groups, and reformers to test new policy models in the states and cities and translate them to the federal level, and to enforce long-fought legal rights and protections, in order to respond to the key problems of the U.S. labor market in the twenty‐first century. Our work includes:
Researching work equity and social insurance policies through a racial equity lens;

Conducting research that can provide state partners with technical assistance and capacity-building support;

Exploring innovative social insurance and work equity policies that build worker power, dismantle structural racism, and address income inequality;

Fighting back against rollbacks of labor and employment rights at the federal, state and local level; and eliminating loopholes that exclude immigrants, people of color, and contingent and temporary workers from core protections.

Advocating for effective policies across the country that help reduce barriers to employment faced by people with arrest and conviction records—disproportionately people of color—including fair chance hiring ("ban the box") and occupational licensing reforms.
The summer legal intern will assist NELP attorneys. Aspects of this work may include:
Providing legal, policy, and strategic assistance for campaigns, including drafting legislation, legal research and analyses, and policy briefs;

Engaging in analysis of policies related to social insurance programs, home care, occupational segregation, and increasing access to quality jobs for Black workers.

Researching unemployment insurance, other social insurance, and work equity policies through a racial equity lens;

Assist with providing state partners with technical assistance;

Drafting memorandums, reports, op-eds, and community educational materials and engaging in strategic communications.
To Apply:
Interested students should submit a cover letter, résumé, and writing sample (if possible, in one PDF document) via http://bit.ly/WorkWithNelp, choosing "Washington, DC Office" from the "Office Location" drop-down menu and "DC Summer Legal Internship" from the "Position" drop-down menu. Applications will be reviewed on a rolling basis, but students are encouraged to apply as early as possible.
NELP requires internship candidates to seek funding from their school or other programs and will work with you to secure supplemental funding if needed. Students who are unable to secure funding through their law schools or other programs should contact Salomé Jean, sjean@nelp.org for further information. NELP does not permit unpaid internships. NELP encourages students to apply to the Peggy Browning Fund, which offers valuable resources and summer funding to law students interested in workers' rights.
NELP is a 501(c)(3) non-profit organization and an equal opportunity, fair chance, affirmative action employer, committed to building a diverse and inclusive workforce. All qualified applicants will be considered without regard to race, color, creed, national origin, sex, age, disability, marital status, sexual orientation, military status, prior record of arrest or conviction, citizenship status, current employment status, or caregiver status.
WHEN APPLYING: Be sure to indicate that you saw this information at UNIONJOBS.COM.
Job Posting Courtesy of UnionJobs.com