Policy Lobbyist – Governmental Relations : Washington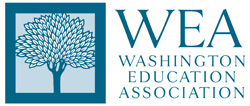 Washington Education Association

Policy Lobbyist
Governmental Relations, Level 5
Based in Olympia, WA
The Washington Education Association is seeking applicants for the position listed above. A job description is included on the following pages. This position is currently available to internal and external applicants.
To be considered for this position the following documents are required:
Cover Letter

Updated résumé reflecting qualifications for this position

Signed WEA application form

List of three (3) professional references (w/contact information)
Washington Education Association application forms are required and may be obtained by following the application link at the end of this document, or at the Washington Education Association located at 32032 Weyerhaeuser Way South, Federal Way, WA 98001; or, by calling Human Resources at 1-800-622-3393 extension 7002.
The deadline for receipt of cover letter, résumé, signed application and list of references is on or before 5:00 pm, August 15, 2019.
If you have questions or need assistance, please contact Karen Knight at the email address or phone number shown below.
Washington Education Association
Attn: Karen Knight, HR Generalist
PO Box 9100
Federal Way, WA 98063-9100
DIRECT: (253)765-7002
FAX" (253) 946-4726
kknight@washingtonea.org
The Washington Education Association is an equal employment opportunity employer. It is the desire of the Washington Education Association to interview applicants from an applicant/interview pool that reflects the diversity of the greater community for each vacancy as it occurs.
Job Description – Policy Lobbyist – Governmental Relations – Level 5 (Olympia, WA)
Supervision: The Policy Lobbyist will work within the Public Policy Center and will report to the Director of Governmental Relations.
Location: Washington Education Association's regional office in Olympia, Washington
Essential responsibilities
Develops, recommends, and implements strategies for a comprehensive government relations and legislative advocacy program to inform, advocate and influence public policy at the state and local level, in areas of significant interest and concern to the members of the WEA, and in support of the organizational mission and goals

Proactively monitors the legislative, regulatory, policy and political landscape to identify opportunities to advocate for the organization's position on priority issues, develop recommendations on policy initiatives, provide feedback about new laws and regulations, and provide information and analysis to internal stakeholders to facilitate strategic and tactical planning

Assists in the development and implementation of a process to engage members in significant public policy issues in coordination with other WEA staff and leaders

Cultivates and maintains strategic relationships with key legislative and regulatory officials and staff, including both elected and appointed officials

Cultivates and maintains strategic relationships with other key education and labor stakeholders and organizations

Develops and recommends draft legislation and regulations to support organizational priorities

Testifies and coordinates testimony for state legislative, executive, and regulatory hearings

Responds to member requests regarding policy issues that are in the lobbyist's portfolio

Provides research, training, and other assistance for the WEA and/or local associations related to the lobbyist's expertise and portfolio as necessary to advance the goals of local and state associations

Leads political organizing and implements election strategies as necessary

Assists and participates in national, state, and local labor actions as necessary

Other duties as assigned
Minimum job requirements
BA/BS Degree or equivalent. Areas of study should be public administration, labor relations, political science and/or public policy; equivalent experience in public administration, labor relations, politics and/or public policy may substitute for the area of study in addition to a BA/BS degree or equivalent

Demonstrated history and/or experience working with communities of color and/or with historically underrepresented groups to enhance civil rights; experience with union activism and/or political engagement on behalf of civil rights issues

Experience in organizing individuals/groups

Experience in developing and providing training to diverse groups on complex, emotional and highly regulated issues

Experience working with large organizations

Ability to understand and grasp the political system at the local, state and federal levels

Demonstrated ability to communicate effectively both verbally and in writing; excellent presentation skills required

Ability to effectively present and persuasively deliver the WEA message

Knowledge of and demonstrated proficiency in a variety of training methods, materials and technologies

Possess the ability to work effectively in a team environment with other Public Policy members, Association staff, members and governance

Proven ability to lead and motivate individuals and teams

High energy and willingness to work flexible hours, including additional hours during each legislative session

Computer experience/skills, i.e. word processing, e-mail and Internet, etc.

The ability to obtain a valid Washington State driver's license, possess a satisfactory driving record, and have a dependable automobile for Association travel with insurance limits of at least $100,000/$300,000 required

Support and advance the Washington Education Association mission, goal, objectives and priorities
Preferred job requirements
An advanced degree desired

Experience as a lobbyist or other political experience with a focus on K-12 and higher education policies

Successful educational employee experience

Experience in local, state and/or national employee or political organizations dependent upon volunteer membership

Prior membership in a union and/or understanding of union history and values
Salary range and benefits
Annual salary range: Level V – $103,029 to $146,957
Benefits:
Employer-paid medical, dental, vision, and life insurance

Generous sick and vacation leave (PTO)

Long-term Disability

Defined Benefit Plan

Defined Contribution Plan (401(k) w/employer contribution

Covered by the WEA/WEASO Collective Bargaining Agreement
Application procedure and references
In order to be considered for this position, a completed and signed WEA application form including resume, cover letter and a list of three (3) professional references (including contact information) must be submitted to WEA Human Resources on or before 5:00 pm, August 15, 2019. Use of the online application process is encouraged.
Important note: When submitting your application materials online, select 'Save as Draft' until you have all materials together and ready to be attached and uploaded – i.e., cover letter, résumé, application and a list of three (3) professional references (w/contact information). This will ensure your application materials remain together as a single submission.
WHEN APPLYING: Be sure to indicate that you saw this information at UNIONJOBS.COM.
Job Posting Courtesy of UnionJobs.com