Copy Center and Administrative Assistant III : Washington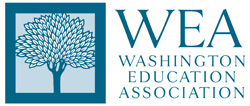 Washington Education Association

Copy Center and Administrative Assistant III
Based in Federal Way, WA
The Washington Education Association is seeking applicants for the position noted above. A job description is included on the following pages. This position is currently available to internal and external applicants.
To be considered for this position the following documents are required:
Cover letter

Updated résumé reflecting qualifications for this position

Signed WEA application form

List of three (3) professional references (including name, email address, phone number, and relationship)
Washington Education Association application forms are required and may be obtained by selecting Online Application located at the end of this document or, at the Washington Education Association located at 32032 Weyerhaeuser Way South, Federal Way, WA 98001 or, by calling Human Resources at 253-765-7002 or 1-800-622-3393, extension 7002.
The deadline for receipt of cover letter, résumé, signed application and written references is on or before August 15, 2019. If you do not submit your materials online, please email, fax, or mail applications to:
Washington Education Association
Attn: Karen Knight, Human Resource Generalist / Human Resources
PO Box 9100
Federal Way, WA 98063-9100
DIRECT (253) 765-7002
FAX (253) 946-4726
kknight@washingtonea.org
The Washington Education Association is an equal employment opportunity employer. It is the desire of the Washington Education Association to interview applicants from an applicant/interview pool that reflects the diversity of the greater community for each vacancy as it occurs.
Job Description – Copy Center and Administrative Assistant III
Supervision: The position will be supervised by the Director of Human Resources.
Job Summary: The Copy Center/Administrative Assistant III provides a variety of copy and printing functions, including operating copy equipment, faxing, laminating, graphic arts printing (using graphics arts software as required), and large format printing. The position is responsible for material acquisition, inventory, monthly reporting for Accounting purposes, mailroom functions, and related duties.
The position also provides administrative support to WEA programs and WEA departments as needed, including program support related to basic accounting functions, data collection, small scale meeting planning, correspondence, and related duties.
Essential job functions and responsibilities
Duties include but are not limited to the following:
Ensures the coordinated delivery of Copy Center services by effectively managing all phases of the copy center operation including scheduling production work and effectively managing workload

Ensures that the Copy Center consistently produces a quality product by implementing appropriate quality control standards for copy layout, document preparation, alignment legibility, and control of copy density

Meets the customer's needs by being thoroughly knowledgeable concerning the copy center's equipment, discussing the customer's needs, providing options to satisfy those needs, and delivering the product as requested

Provides a customer-service approach to the work of the Copy Center by implementing appropriate customer service procedures and providing recommendations for any changes to procedures or other processes affecting the Copy Center's output

Assists in maintaining an efficient operation by performing daily routine maintenance on equipment, requesting maintenance services when required, reporting monthly meter readings to equipment vendors and WEA Accounting, and submitting periodic reports on downtime of Copy Center; troubleshoot equipment and conduct normal key operator preventive machine maintenance as needed

Ensures that the Copy Center maintains sufficient stock of supplies to meet anticipated customer demands, thus avoiding delays in production by managing the on-hand inventory of paper products and supplies through daily spot checks of stock and ordering sufficient stock in advance of the projected need

Performs various operations including, but not limited to: folding, cutting, binding, padding, laminating

Utilizes desktop publishing software for purposes of facilitating efficient and cost-effective production

Remains competent and current through self-directed professional reading, developing professional contacts with colleagues, attending professional development courses, and attending training and/or courses

Operate standardized copy equipment including Xerox DocuTech, HP DesignJet, Xerox Color 560, etc.

Operate postage machine and related mail equipment, including UPS software/machine

Coordinate special mailings and produce large scale document assembly related to the WEA Representative Assembly

Prepare projects for printing, document scanning and enhancement

Respond to copy requests and job requests received through email – prioritize and complete

Set up quality controls for work accuracy

Reply to customer calls to identify potential problems or delays

Conduct platen cleaning, toner replacement and general work area cleaning in accordance with recommended copy equipment cleaning protocols

Provide quality reproduction of customer materials

Finish job tickets and print requests with minimal instruction

Schedule individual jobs and identify equipment to be utilized based on size and complexity of the print project

Troubleshoot equipment paper jams and conduct normal key operator preventive machine maintenance as needed

Oversee materials usage; order supplies to mainain optimal levels

Manage records and equipment usage logs and suggest technical direction

Produce timely and accurate meter reads

Ability to work with vendors, assess and make recommendations related to Copy Center RFPs, and related duties

Provide advice and/or consultation related to mail and shipping services (UPS, FedEx and similar companies)

Approach work with strong organizational skills and attention to detail in order to meet multiple deadlines

Successfully and efficiently organize/prioritize multiple assignments, demonstrate flexibility in a positive, productive manner, and identify needs for additional support

Demonstrate professionalism in carrying out multiple responsibilities in a calm, self-directed and efficient manner under pressure

Strong interpersonal skills, including experience in working with and supporting members/customers, trainers/training teams, and staff colleagues

Ability to work with diverse groups of people and build and maintain effective working relationships

Ability to make meeting arrangements (identifying and finalizing complex event venues, catering), problem-solve issues that arise, and communicate expectations with vendors

Analyze and prepare time-sensitive bills, invoices and vouchers accurately for payment

Anticipate needs in a fast-paced, constantly changing work environment

Ability to work with a cross-trained, interdependent staff team, assisting others and reaching out for support when needed

Validate and verify for proper authorization account number coding and supporting documentation to comply with policy; when necessary, perform statement and account reconciliations, and resolve outstanding amounts/discrepancies

Ability to locate, retrieve, cross-reference, and assess reliability of a wide variety of information on the internet

Utilize word processing, spreadsheets, mail systems, desktop publishing software, and Internet/Intranet access to produce a variety of correspondence, articles, materials, calendars and other documents

Provide administrative support by preparing, proofreading, coordinating, and distributing/submitting documents and reports

Proofread a variety of written materials for typographical, grammatical and stylistic errors

Other duties as assigned
Minimum job requirements
Experience with and/or working knowledge of copy center equipment, postage machines and related equipment

Ability to work during WEA core business hours (shift to be determined) and during the WEA Representative Assembly; occasional travel is expected

Ability to work some weekends and evenings, including overtime

Ability to keep information confidential

Ability to successfully work with, learn from, communicate with and support diverse individuals and groups, including people from historically underrepresented groups

Contribute to a work environment that encourages knowledge of, respect for, and development of skills to engage with those of other cultures or backgrounds

Must be able to develop and maintain cooperative, productive workplace relationships

High school graduate or GED equivalent

Ability to move and lift up to 50 lbs.

Bookkeeping and accounting experience using computerized accounting system and demonstrated knowledge of general accounting principles and auditing procedures

Two (2) years of office administrative assistant or related work

Proficient entering data quickly with a high degree of accuracy; proficient using programs and spreadsheets, with particular emphasis on Microsoft Excel, Power Point and Word

Energetic self-starter with the ability to work well in a team environment, as well as independently

Comprehend multiple instructions with the ability to plan, priortize/organize and complete a variety of assignments

Demonstrate initiative and ability to effectively handle multiple assignments and be flexible with changing priorities

Strong organizational skills including ability to perform a high volume of numerical detail work with speed and accuracy

Work cooperatively with other associate staff across centers and UniServ Councils to assure work is coordinated and completed

Maintain professional work habits of punctuality and attendance

Pay strong attention to details; highly detail-oriented

Proven proofreading, spelling, and grammar skills

Ability to type a minimum of 50 wpm with a high degree of accuracy

Ability to operate standard office equipment

Proven experience and proficiency in the use of Microsoft Office Suite and other industry-appropriate software and hardware

Demonstrated knowledge of secretarial and office administration procedures

Must support and advance the WEA mission, goals, core values and priorities
Salary range and benefits
Annual salary range: Level 3 – $62,225 to $88,761
Benefits:
Employer-paid medical, dental, vision and life insurance

Generous sick & vacation leaves (PTO)

Long-term disability

Defined Benefit and Defined Contribution plans

Position covered by the WEA/WEASO Collective Bargaining Agreement
Application procedure and references
In order to be considered for this position, a completed and signed WEA application form including resume, cover letter and the names and contact information (including relationship to applicant) of three (3) individuals who have knowledge of the applicant's professional background and work experience, must be submitted to WEA Human Resources on or before August 15, 2019. Use of the online application process is encouraged.
Important Note: When submitting your application materials online, select "Save as Draft" until you have all materials together and ready to be attached and uploaded – i.e., cover letter, résumé and three professional references. This will ensure your application materials remain together as a single submission.
WHEN APPLYING: Be sure to indicate that you saw this information at UNIONJOBS.COM.
Job Posting Courtesy of UnionJobs.com