Communicator : Wisconsin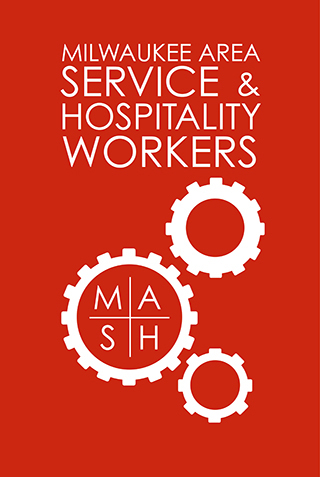 MASH
Milwaukee Area Service & Hospitality Workers Organization
Communicator
Service, Hospitality, Healthcare, and Other Workers
Based in Milwaukee, WI
We are seeking passionate people interested in labor organizing to build a multi-sector, multi-racial workers movement with the Milwaukee Area Service & Hospitality Workers Organization (MASH).
MASH is an organization of service, hospitality and other low-wage workers building collective power to raise standards in our industries. MASH is a new form of worker organization combining the functions of labor union, hiring hall, worker center, and workforce agency. We launched to implement a landmark community benefits agreement for wage floors, union rights, and a hiring hall for service and hospitality jobs in the new Milwaukee arena district. Now we are working to win sectoral standards through a multi-employer, industry-wide initiative and comprehensive campaign.
MASH is hiring a Communicator to be part of a team moving an ambitious, aggressive program to build power amongst workers and raise standards. The communicator will play an integral leadership role across the whole of the organization's work.
Key Responsibilities:
Develop and drive a communications strategy to move our messages and build public narrative around our campaigns, priorities, analyses, and values

Develop and oversee communications in various media (e.g. earned, digital/social)

Build relationships with media that generates positive coverage of our work and inserts our organization into public conversation on relevant issues

Train members, leaders and staff on best practices in communication; prepare members and leaders to engage with media

Work collaboratively with union leaders, staff and members around key issues and campaigns to translate a vision of our union's work into communications projects.

Identify opportunities to publicly communicate workers' stories and experiences; address inquiries from media

Build trusting relationships with worker-leaders, in conjunction with organizing staff, to confidently speak on union issues to community, coworkers, and in media interviews

Produce talking points, speeches, digital content, campaign support and other communications materials as needed

Manage communications-focused event logistics and programs; develop such events in conjunctions with campaign and organizational leaders

Primary responsibilities center on comprehensive campaign to win sectoral standards; additional responsibilities as assigned will include support for political projects and collaboration with allied unions in service and healthcare industries
Required Qualifications:
Strong verbal and written communication skills with demonstrated success in moving strategic messages and public narrative in a variety of media.

Ability to develop and execute a communications plan across a full scope of media, including creation of content

Ability to distill complex information, ideas, and analyses to create resonant and relevant messages to a variety of targeted audiences

Strategic thinking that contributes to organizational campaigning, particularly in relationship with other components of the union's whole

Commitment to economic, racial and social justice; understanding of power; knowledge of and ability to learn political and economic landscape in which the union operates

Ability to take initiative; manage one's own work; manage up; balance and handle varying workloads and priorities, driving toward multiple outcomes and deadlines.

Ability and willingness to work long and irregular hours, including nights and weekends.

Ability to work independently as well as with a team.

Ability to be coached and trained (actively inviting feedback and input), to be held accountable, and to struggle through difficulty

Resourcefulness, persistence, loyalty and integrity and strong skills in planning, time-management and problem-solving are a must

Demonstrated ability to work with people from diverse cultures and backgrounds.

Possession of a valid U.S. driver's license, proof of auto insurance, and an automobile for business use.

Background in unions or the labor movement preferable, but not required
Compensation:
Salary ranges starting at $60,000/annual but commensurate with experience; benefits include fully employer-paid health, dental and vision insurance; cell phone allowance; generous paid time off; and, 6% salary employer contribution to 401(k) account beginning after 6 months of employment. This is a full-time, salaried, overtime-exempt position. MASH provides a numerous opportunities to advance and take on interesting, meaningful work.
Application Requirements:
A résumé should be sent to: denise.lowe@mashworkers.org, with the subject line "Communicator Application"; no cover letter is required, but the email should briefly mention why you are interested in organizing with MASH to build the workers movement.
People of color, women, LGBTQ people, and working class and poor people strongly encouraged to apply.
WHEN APPLYING: Be sure to indicate that you saw this information at UNIONJOBS.COM.
Job Posting Courtesy of UnionJobs.com