Political Director : Oregon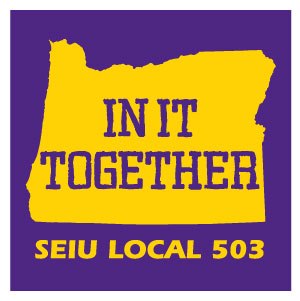 SEIU Local 503
Stronger Together

Political Director
Based in Portland, OR
SEIU Local 503 is Oregon's union of 65,000 nursing home, homecare, child care and other care providers, public and non-profit workers. We are part of the 2 million member Service Employees International Union (SEIU), committed to building power for low-wage workers and engaging in social and economic justice issues facing working families, from affordable housing to immigrant rights.
Position: Political Director
Department: Administration
Position is: Full-Time Administrative Staff
Excluded from Bargaining Unit: Yes
Eligible for Overtime: No
Immediate Supervisor: Executive Director
Purpose of the Position:
With shared vision and purpose, we will drive organizational change and effectiveness through a focus on staff and team development, accountability, and equity and inclusion.

Responsible for working with the Executive Director to develop and oversee implementation of strategies designed to achieve the vision and goals adopted by our union and to provide leadership among staff and members.

Duties that must be performed to accomplish the purpose of the position:

Develop and implement a political action plan with the Executive Director to achieve goals and priorities established by the elected leadership of SEIU Local 503 that includes candidate elections, ballot measures, legislative lobbying, interim governmental contacts, and coalition building among allies.

Lead, supervise and develop the SEIU Local 503 Political Team including political organizers, policy organizers, loss-time members and contract lobbyists who are lobbying on behalf of SEIU Local 503.

Lead and oversee the work of SEIU Local 503's CAPE Council including coordinating CAPE elections, political trainings, leadership conferences, fundraising campaigns, candidate endorsement processes, candidate campaign contributions, develop CAPE budget with executive committee, political volunteer activities and the development of leaders.

Serve as Chief Lobbyist for SEIU Local 503 including developing legislative and policy proposals, overseeing the lobbying team including contract lobbyists, prepare and give testimony at public hearings, summarize and analyze bills and policies, form and maintain lobbying coalitions, collaborate with staff and members to develop organizing plans to complement our lobbying efforts and develop leaders.

Coordinate SEIU Local 503's ballot measure campaign activities including preparing proposed budgets, assisting in fundraising, representing SEIU Local 503 in campaign coalition meetings, overseeing the strategic planning and campaign including polling, consultant selection and campaign staffing. Coordinate with other staff to develop an internal field plan within the union.

Coordinate SEIU Local 503's candidate campaign work. Including helping to develop winning campaign plans, ensuring endorsed candidates are prepared to win races, developing relationships with candidates, and working with CAPE on a candidate budget that reflects the member's priorities.

Lead in the development and maintenance of coalitions with allied organizations.

Participate in union-wide membership drives, political campaigns and other field activities as assigned which may include worksite visits, phone banking, house visits, door-to-door canvassing and literature drops.
Minimum Qualifications:
At least 7 years' experience with a variety of the backgrounds listed below, including candidate campaign work, lobbying, policy work, ballot measures campaign work, budget management and working and supervising a team to carry out those goals.

Experience lobbying, including policy development and strategy. Experience with state budgets is desired.

Managerial and supervisory experience, working with a high level team that takes on a lot of responsibility.

Campaign experience, including creating ballot measure and candidate strategy, writing campaign plans, doing field work and creating field plans, creating messaging, developing a communications plan, and analyzing data.

Experience developing and analyzing polls and using that data to create a strategy.

Experience working with membership organizations, experience with labor organizing is desired.

Experience leading organizational equity and inclusion work and making sure that our political work is done through a gender, race, and economic justice lens.

Experience being a participant in and bringing together diverse coalitions.

Strong writing, public speaking, and analytical skills.

Experience writing and managing a budget is strongly desired.
Working Conditions/Environment:
Office and field work involving travel to areas represented throughout the state and in a variety of environmental situations. Work hours consistently in excess of 40 hours per week. The Legislative session requires full-time attendance at the Capitol, often on holidays, until sine die, which is an uncertain time line.
As the most diverse union in North America, we are committed to having an inclusive leadership and staff, both to reflect our membership and to model the unity and equity that we seek to create among our communities. Women, LGBTQ, people of color, people with different abilities, and immigrants are strongly encouraged to apply.
Benefits: Fully paid Family medical, dental, vision insurance coverage; 401K, car and cell allowance, generous leave and severance package
Salary: $47,424-$99,156 annually – dependent on experience
To Apply: Send Cover Letter and Résumé c/o Maureen Crawford: crawfordm@seiu503.org.
WHEN APPLYING: Be sure to indicate that you saw this information at UNIONJOBS.COM.
Job Posting Courtesy of UnionJobs.com