Policy Analyst or Staff Attorney, Work Equity and Social Insurance : California, District of Columbia, New York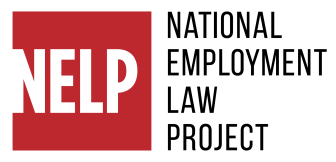 Policy Analyst or Staff Attorney
Work Equity and Social Insurance
Based in Berkeley, CA, Washington, DC, or New York City, NY

The National Employment Law Project (NELP) seeks a dynamic and skilled person to join our Work Equity and Social Insurance teams to advance NELP's programs and policy campaigns. We are seeking someone with 3-5 years' experience in promoting work and racial equity, working in partnership with Black-led organizations, and with an understanding of social insurance policies. The policy analyst or staff attorney will work within NELP to support racial equity through our work with Black-led and anti-racist organizations and through our social insurance proposals.
Who We Are
NELP is a national non-profit with offices in New York, Washington, D.C., Seattle, and Berkeley, promoting federal, state, and local policies designed to ensure that all workers—particularly people of color, women and the unemployed—can achieve and sustain economic opportunity and security through their labor. These include policies to improve the quality of low-wage jobs, strengthen access to work and mobility within work, create and enforce strong labor standards and rights, and improve benefits and services for the unemployed. NELP believes that we will achieve our mission only when we have dismantled structural racism, addressed income inequality, and built worker power. In collaboration with national and grassroots partners, NELP advances its work through research, advocacy, litigation support and technical assistance designed to raise wages, end wage theft and workplace violations, ensure safe and healthy workplaces, strengthen unemployment insurance and workers' compensation, secure employer accountability, expand employment of people with arrest and conviction records, and promote a comprehensive policy framework to build a good jobs economy. For more information, see www.nelp.org.
As advocates for workers' rights, including the right to organize and bargain over working conditions, bargaining unit staff at NELP are members of Local 2320, UAW.
What You Will Do
You will work in conjunction with NELP's staff of lawyers, policy and program experts, researchers, and strategic communications experts. The Work Equity and Social Insurance teams partner with grassroots organizing groups and reformers to test new models and promote policies in the states and cities that will respond to the pressing issues of the U.S. labor market, laying the foundation for federal reform. Your work will include supporting the following:
Deepening our racial equity framework and approaches, through cross-team participation and analysis of policies related to occupational licensing of people with arrest and conviction records, increasing access to quality jobs for Black workers, and social insurance programs.

Researching work equity and social insurance policies through a racial equity lens;

Providing state partners with technical assistance and capacity-building support;

Exploring innovative social insurance and work equity policies that build worker power, dismantle structural racism, and address income inequality;

Fighting back against rollbacks of core labor and employment rights at the federal, state and local level; and eliminating loopholes that exclude immigrants, people of color, and contingent and temporary workers from core protections.
You will be based in NELP's Berkeley, CA, Washington, D.C., or New York City office and will be responsible for the following:
Supporting NELP's racial equity/social insurance policy work and campaigns with key constituencies, allied organizations, and policymakers;

Assisting with research and advocacy related to unemployment insurance and other social insurance issues; occupational licensing of people with records; pre-apprenticeships and apprenticeships; occupational segregation;

Drafting reports and educational materials;

Collaborating to create strategic communications around policy work;

Engaging in a workplace culture where all team members grow and develop professionally;

Actively contributing to NELP's work in becoming an anti-racist organization that reflects and embodies internally the values of social justice, diversity, and inclusion.
Who You Are

Ideally, you have 3-5 years' experience. We do not expect that candidates will have this full range of experience, but the ideal candidate would have the following experience:

You have strong experience in developing and applying an equity framework to programmatic and policy work.

You have real interest in and commitment to developing expertise in racial equity and social insurance policies, including unemployment insurance, retirement security, and home care and health coverage.

You have demonstrable experience and knowledge in working in partnership with anti-racist and/or Black-led organizations.

You have experience and a commitment to labor and employment rights, civil rights and racial justice, or other economic justice issues.

You have excellent written and oral communication skills and are able to create materials for a wide-range of audiences.

You are skilled at aggregating and synthesizing complex information and concepts.

You are able to manage multiple projects simultaneously.

You have experience working in the Deep South, and/or with worker centers or other community-based organizations.

You have experience working in an advocacy organization or public agency focused on labor law and policy, labor unions, or workers' rights.
Start Date, Location, Compensation and Benefits: This is a two-year contract position that will be based in Berkeley, CA or Washington D.C. We will also consider candidates based in New York City. Start date will be as soon as possible. Classification and compensation for NELP bargaining unit positions is commensurate with relevant experience and education and based on NELP's collectively bargained scales. The Staff Attorney salary range for 3-5 years' experience is $69,200 -75,200. The Policy Analyst salary range for 3-5 years' experience is $58,100 – 67,450. Compensation also includes an excellent benefits package, including student loan repayment assistance for qualifying participants. This position is in NELP's bargaining unit, represented by National Organization of Legal Service Workers, UAW Local 2320.
To apply: Email cover letter, résumé, writing sample and three references to jobs@nelp.org, noting "Work Equity and Social Insurance Policy Analyst or Staff Attorney" in the subject line. If you have questions regarding this announcement, please forward those to jobs@nelp.org, noting "Work Equity and Social Insurance Policy Analyst or Staff Attorney" in the subject line. No phone calls or other email inquiries please. We will consider applications on a rolling basis. Applications due by January 9, 2019, 2018.
NELP is a 501(c)(3) non-profit organization and an equal opportunity, fair chance, affirmative action employer, committed to building a diverse and inclusive workforce. All qualified applicants will be considered for employment without regard to race, color, creed, national origin, sex, age, disability, marital status, sexual orientation, military status, prior record of arrest or conviction, citizenship status, current employment status, or caregiver status.
WHEN APPLYING: Be sure to indicate that you saw this information at UNIONJOBS.COM.
Job Posting Courtesy of UnionJobs.com