Organizing Director : New York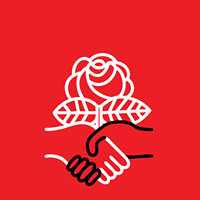 Democratic Socialists of America
Organizing Director
Based in New York City, NY
work may be located remotely
Democratic Socialists of America (DSA) is the largest democratic socialist organization in the United States and has experienced massive growth over the past two years. We now have over 54,000 members and over 200 groups in all 50 states and the District of Columbia engaged in movement-building, public education, direct action, advocacy, and electoral politics. Our goal is to build multi-racial working class power and win transformative reforms like Medicare for All, protect programs like Medicaid expansion at the state level, support a stronger labor movement, and elect socialists to office, all while shifting the public framing around capitalism and democratic socialism. The Organizing Director reports to the National Director.
Responsibilities
Guide DSA's Organizing Staff
Supervise field organizing and digital organizing staff, develop and support organizers to:

Implement organizing programs which develop the grassroots leadership and capacity of DSA and YDSA chapters and organizing committees across the country to win issue-based campaigns based on local power analyses.

Ensure chapters have clear paths to build national priorities projects.

Create opportunities for chapter leaders to connect and build a shared vision of solidarity such as through regional trainings and conferences.

Oversee and ensure staff and member volunteers develop organizing resources for chapters to be utilized through the organizing program.
Work with Member Volunteers
Ensure that members see clear paths to stepping into meaningful roles in the national organization.

Support national working groups to link our issue-based campaigns together.
Perform other duties which may arise based on the needs of the organization.
Requirements
Minimum three years of experience as an organizer or campaigner running successful grassroots campaigns.

Skilled planner with a proven track record of building a base, mobilizing large numbers of people to take action, developing grassroots leadership and winning concrete campaigns.

Available to travel.

Experience directly supervising at least three staff.

Experience with developing organizers' skills in one-on-one meetings, power mapping, direct action, strategic campaigning, popular education training, and/or political education.

Exceptional listening, interpersonal, and general communication skills.

Strong administrative and delegation skills.

Proven ability to efficiently manage multiple projects at once, use limited resources effectively, and work with a team.

Handles high pressure situations with positive attitude, tact and professionalism.

Enjoys working with volunteers and understands their integral role in DSA.

Familiarity with CRM/CMS platforms.

Excellent computer skills: advanced proficiency in Microsoft Office Suite, specifically Word and Excel.

Commitment to democratic socialist, feminist, anti-racist, anti-heterosexist and pro-worker action and identify as a socialist and be grounded in democratic socialist politics; general agreement with the positions and perspectives of YDSA and DSA.
Preferred
Available to start by February 11, 2018.

Familiarity with Google Drive/Google Suite.

Creativity.

Sense of humor.
Work Schedule: Full time
Salary: Commensurate with experience, between $63,000-$66,500.
Benefits: We offer employer paid medical, dental, and vision insurance for employees and their spouse/partner and/or dependent children, and three weeks of vacation in the first year of employment, then four weeks each year thereafter.
Location: New York City or willing to relocate
This position is not covered by a collective bargaining agreement. DSA is an equal opportunity employer.
Interviews will be conducted on a rolling basis and the position will start as soon as possible.
Application Deadline: Apply as soon as possible, as interviews begin immediately.
To Apply: Email the following documents to jobswithdsa@dsausa.org with the SUBJECT LINE: ORGANIZING DIRECTOR.
résumé

cover letter with statement of your qualifications, overview of organizing and supervisory experience, and how you meet the job requirements

3 references with direct supervisory knowledge of relevant work
WHEN APPLYING: Be sure to indicate that you saw this information at UNIONJOBS.COM.
Job Posting Courtesy of UnionJobs.com