Director of Strategy and Policy : District of Columbia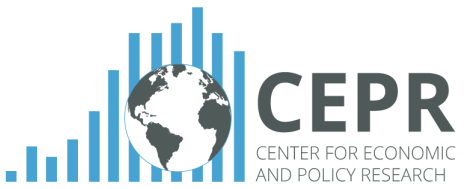 Center for Economic and Policy Research
Director of Strategy and Policy
Washington, DC
The Center for Economic and Policy Research is currently looking for a full-time Director of Strategy and Policy in its Washington, DC office.
Job Description: The Center for Economic and Policy Research (CEPR) seeks a Director of Strategy and Policy to support the organization's strategic planning, public policy engagement, and donor relations activities. Working in close coordination with CEPR's Co-Directors, the Director of Strategy and Policy will work to help formulate the organization's overarching goals, to ensure that research products are useful to policymakers and the public, and to represent the organization in a variety of forums.
Reporting to CEPR's Co-Directors, the position will entail a range of responsibilities including the following:
Helping to formulate strategic goals for CEPR's research and education activities;

Coordinating the use of research, publications, and events to meaningfully impact policy-makers, the media, and the public;

Liaising with funders and partner organizations to build support for CEPR's strategic goals and initiatives;

Contributing to the dissemination of CEPR's research products through writing, speaking, TV and radio appearances, and meetings with allied organizations and individuals.
Qualifications: The Director of Strategy and Policy will have:
A minimum of five years of experience in public policy research, advocacy, and/or management;

An advanced degree in economics, public policy, or a related field preferred;

Exceptional communications skills, including a record of publications and speaking engagements as well as experience working with funders and senior government officials;

A demonstrated record of success in strategic planning, coalition-building, and fundraising;

Strong organizational and interpersonal skills.
Applicants affected by the issues that CEPR works on are especially encouraged to apply.
Salary and Benefits: CEPR offers a competitive salary and an excellent benefits package. This position will be represented by the International Federation of Professional and Technical Engineers, Local #70, AFL-CIO.
Closing Date of Position:Monday, January 1, 2018 (at 11:59 PM, Eastern time)
In rare, extenuating circumstances, the application period may be extended or shortened. In the event that the application period is shortened, CEPR will update this posting to notify candidates that they have seven days to apply.
To Apply: Send the following, in a single PDF file, to apply[at]cepr.net with the subject line "Director of Strategy and Policy":
a cover letter;

a résumé, and;

a writing sample.
Please do not submit additional information apart from the three items listed above. You may address your cover letter to the Director of Strategy and Policy Search Committee if you wish.
If you have any questions, please email cepr[at]cepr.net, the contact for the Director of Strategy and Policy Search Committee. Absolutely no calls or faxes, please, and no additional emails.
Organization Description: The Center for Economic and Policy Research (CEPR) was established in 1999 to promote democratic debate on the most important economic and social issues that affect people's lives. It is an independent, nonpartisan think tank based in Washington, DC. CEPR is committed to presenting issues in an accurate and understandable manner, so that the public is better prepared to choose among the various policy options.
CEPR is an ideal place to learn about current economic and global justice issues in a friendly, relaxed and fun environment. Work schedules are flexible.
CEPR is an equal opportunity employer that considers applicants for all positions without regard to race, color, religion, creed, gender, national origin, age, disability, marital or veteran status, sexual orientation, or any legally protected status.
WHEN APPLYING: Be sure to indicate that you saw this information at UNIONJOBS.COM.
Job Posting Courtesy of UnionJobs.com