Director of Organizing & Labor Education : Alaska, Arizona, California, Colorado, Hawaii, Idaho, Montana, Nevada, New Mexico, Oregon, Utah, Washington, Wyoming, Guam, Northern Mariana Islands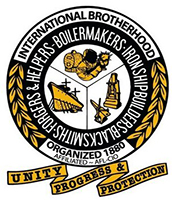 International Brotherhood of Boilermakers, Iron Ship Builders,
Blacksmiths, Forgers & Helpers, AFL-CIO/CLC
Director of Organizing & Labor Education
Western United States Section
(Alaska, Arizona, California, Colorado, Hawaii, Idaho, Montana, Nevada,
New Mexico, Oregon, Utah, Washington, Wyoming, Islands of the Pacific)
Position open until filled.
About the Boilermakers
The International Brotherhood of Boilermakers, Iron Ship Builders, Blacksmiths, Forgers & Helpers, AFL-CIO/CLC, represents members across North America employed in industrial construction and maintenance, shipbuilding, cement making, railroads, manufacturing and allied industries. Organized in 1880, we are headquartered in Kansas City, KS. We are a diverse union, with members engaged across a range of industries, from energy to mining to commercial and naval shipbuilding to consumer products. The Boilermakers' family of organizations includes Bank of Labor, the MOST trust (with 17 industry-leading programs for safety, training and work readiness), the Boilermakers National Apprenticeship Program and the Boilermakers National Funds.
The Western States Director of Organizing is an experienced organizer and worker advocate with a proven track record of winning campaigns. This Director will lead the development and implementation of the department's strategic plan that champions organizing to grow the Boilermakers membership, as well as advocates for bringing change and strengthen our communities, and oversees Organizer training and development.
The right candidate is outgoing, self-directed, has excellent critical thinking, creativity, verbal and written communication skills, thrives working in a team environment and manages their team utilizing labor values.
The role requires an experienced, motivational, leader to strengthen relationships, and build trust and participation.
Required qualifications to apply:
At least 7-10 years of labor organizing experience, at least 5 years in a supervisory role.
Familiarity with the challenges of the industry and passion for the labor movement.
Demonstrated success at providing effective leadership and direction to union organizers and union campaigns; experience organizing shops and field construction is a plus. Not looking for political oeganizers.
Demonstrated success in building and developing committees from the beginning of their formation through the ratification of the first contract.
Ability to create and execute campaign organizing plans that include strategic research, staff development, communications plans.
Proficient in the language and practice of diversity, equity and inclusion and committed to approaching and building all work through these values and priorities.
Experience with union budgets, fiscal oversight, DOL requirements.
Scope of Responsibilities
Lead the Western States Organizing Department, including supervision and training of organizing staff.
Develops and implements plans for external (new unit) organizing, internal organizing, and first contract campaigns.
Develops and proposes plans for interventions to prevent or reverse bargaining unit destabilization or decertification efforts.
Supervises staff utilizing labor values and a collaborative approach championing diversity, equity, and inclusion.
Recruits and coordinates volunteers and Field Organizers. Oversees member recruitment and training on organizing campaigns, including release time positions.
Develops training and education programs for organizers and labor representatives to support the transition to the organizing model.
Utilize data management tools to track progress toward organizing goals
Coaches, mentors and cultivates leaders.
Contributes to budget development for organizing.
Participates in the development and implementation of the Boilermaker strategic plan.
Travel requirements: this is a field position requiring frequent local travel in the Western States.
Compensation
Competitive salary commensurate with experience will be offered to the successful candidate.
How to apply:
To apply please submit two (2) separate documents:
A letter of application that addresses how your experience and professional qualifications prepare you to hit the ground running and serve the needs of the Boilermakers now and what is needed in the future (1,000 words or less}.
Résumé, and include links to any job-related social media listings such as Linkedln.
Submit a cover letter, résumé and at least two writing samples (preferably handbills or other literature from prior campaigns in which you worked) electronically to:
Kym Savage, Administrative Secretary
International President's Office
*No phone calls please
Email: ksavage@boilermakers.org
Our organization is an equal opportunity employer that actively seeks to build diversity. Women, people of color, LGBTQ, Veteran, and disabled individuals are fully respected and encouraged to apply.
For more information on the International Brotherhood of Boilermakers, please visit our website at www.boilermakers.org
WHEN APPLYING: Be sure to indicate that you saw this information at UNIONJOBS.COM.
Job Posting Courtesy of UnionJobs.com