Product Team Coordinator : Alabama, Alaska, Arizona, Arkansas, California, Colorado, Connecticut, Delaware, District of Columbia, Florida, Georgia, Hawaii, Idaho, Illinois, Indiana, Iowa, Kansas, Kentucky, Louisiana, Maine, Maryland, Massachusetts, Michigan, Minnesota, Mississippi, Missouri, Montana, Nebraska, Nevada, New Hampshire, New Jersey, New Mexico, New York, North Carolina, North Dakota, Ohio, Oklahoma, Oregon, Pennsylvania, Rhode Island, South Carolina, South Dakota, Tennessee, Texas, Utah, Vermont, Virginia, Washington, West Virginia, Wisconsin, Wyoming, American Samoa, Guam, Northern Mariana Islands, Puerto Rico, U.S. Virgin Islands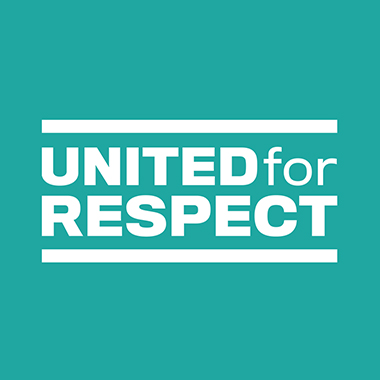 United for Respect
Product Team Coordinator
May be worked from anywhere in the United States (remote)
United for Respect (UFR) and WorkIt are seeking a Product Team Coordinator with a passion for creating technology that builds power for working people. You will help scale UFR's suite of products, including WorkIt, our mobile platform that provides immediate support to people in low wage jobs struggling to understand and assert their rights under the law and navigate corporate policies. You will work closely with the Director of Product, our partnerships team and our agile development team to deliver valuable features and enhancements for our labor and non-profit partners, UFR staff utilizing the platform and end users.
About United for Respect
United for Respect is a multiracial movement of working people advancing a vision of an economy where corporations respect our work and recognize our humanity. By leveraging technology, communities of support, and collective action, UFR is challenging major corporations and policymakers to change our economy and provide sustainable jobs for all working people. Learn more about UFR's core programs here.
About WorkIt, United4Retail and Issue Tracker:
WorkIt is our proprietary digital platform that leverages machine learning to provide immediate support to people in low-wage jobs who are struggling to understand and assert their rights under the law and navigate corporate policies. WorkIt is available in both English and Spanish and can be downloaded directly through Google Play or iTunes to ask any question about workplace policy or rights via a simple chat interface to receive immediate, easy-to-understand advice and support. UFR's new mobile app, United4Retail, builds on WorkIt's success to bring people working in retail across the country into peer support communities with each other. The WorkIt team also builds other digital tools to bolster worker organizing, such as our Issue Tracker, a tool developed in response to the pandemic which tracked underreported COVID-19 cases and safety issues at worksites.
As The Product Team Coordinator you will be responsible for:
Working with the partnership team and the Director of Product to identify user pain points, prioritize user stories and collect requirements for new features and enhancements.
Ensure that development tickets are prepped and ready to go for the engineering team.
Manage release progress and timelines to ensure that we are hitting milestones to deliver value to our partners and users as well as fulfilling any high-integrity commitments.
Provide regular progress reports to stakeholders and facilitate communication about high priority issues.
Support the Director of Product in preparing and facilitating product showcases.
Prepare product reports and analysis to support development of product strategy and roadmap.
Support the Director of Product in preparing delivery projections and communicating expectations to stakeholders.
Participate and help lead product team meetings, including sprint planning, backlog grooming and sprint reviews.
Ensure that blockers to engineering team progress are removed quickly.
Support the Director of Product in collaboration with the entire WorkIt team in developing product strategy and roadmap.
Prepare release updates for internal stakeholders and partners that detail enhancements and fixes included in each release.
Coordinate with the QA team to ensure high integrity releases.
Coordinate with the partnerships team to prepare App Store and Google Play store listing pages and submit mobile apps for review.
Support with user research and QA as necessary.
You'll Be A Great Fit If You Have:
Excellent communication skills and experience preparing reports and presentations for diverse audiences.
The ability to gracefully manage and prioritize dozens of moving pieces, competing deadlines and goals
Are quick to learn new technologies and ability to communicate effectively with technical and non-technical audiences.
High level of experience in building systems and designing team workflows.
Strong writing skills, preferably with experience communicating in written format with technical teams.
A love for details, but you're also comfortable talking strategy and big picture.
A demonstrated commitment to meeting high standards and a history of getting things done even in the face of obstacles as well as the ability to juggle multiple projects at a time and work in a fast-paced environment
Ambition, drive, energy, and the ability to work flexible and long hours when necessary.
A passion for data and have experience creating meaningful data reports and visualizations
Understanding of or hands-on experience with agile product development
The ability to build strong relationships with a diverse set of stakeholders, including partner organizations, organizers, developers, and member leaders.
A commitment to economic and social justice. You understand and can articulate issues facing communities of color, women, or low-and moderate-income families and can address this in your letter of interest.
Preferred
Experience preparing development tickets, particularly writing acceptance criteria.
Experience developing workflows for an Agile team.
Proficiency with Jira or another product management software.
Familiarity or experience with user research, QA testing, product design, product management.
Prior experience with mobile app development
Reports to: Director of Product
Location: National (remote).
Salary Range: $73,000-$78,000, depending on experience and geography. Ability to travel is a must when it is safe to travel again.
United for Respect is an equal opportunity employer with a commitment to equity. People of color, women, and LGBTQIA+ candidates are encouraged to apply.
To Apply:
If you are interested in applying for this position, please apply HERE.
WHEN APPLYING: Be sure to indicate that you saw this information at UNIONJOBS.COM.
Job Posting Courtesy of UnionJobs.com