National Organizing Director (Location Flexible) : Alabama, Alaska, Arizona, Arkansas, California, Colorado, Connecticut, Delaware, District of Columbia, Florida, Georgia, Hawaii, Idaho, Illinois, Indiana, Iowa, Kansas, Kentucky, Louisiana, Maine, Maryland, Massachusetts, Michigan, Minnesota, Mississippi, Missouri, Montana, Nebraska, Nevada, New Hampshire, New Jersey, New Mexico, New York, North Carolina, North Dakota, Ohio, Oklahoma, Oregon, Pennsylvania, Rhode Island, South Carolina, South Dakota, Tennessee, Texas, Utah, Vermont, Virginia, Washington, West Virginia, Wisconsin, Wyoming, Guam, Northern Mariana Islands, Puerto Rico, U.S. Virgin Islands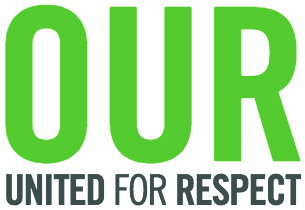 OUR
United for Respect
National Organizing Director
(Location Flexible)
Can be based anywhere in US
with Oakland, CA; New York; or New Orleans preferred
The Organization United for Respect (OUR) seeks a dynamic Organizing Director to grow a powerful network of action among people working for America's largest low-wage retail corporations.
OUR is a national organization building an industry voice of people working for the country's largest retail corporations. Through scaled leadership development and base-building, OUR's growing network is challenging major corporations and policymakers to provide family‐sustaining jobs for all working people. We leverage technology — social media and our digital platform, WorkIt — and bring the retail workforce into a shared community of support and advocacy. Learn more about OUR's core programs here: OUR Walmart and Rise Up Retail.
Job Responsibilities
The Organizing Director will work with a talented organizing team to build a scaled worker organizing program that advances high impact worker-driven campaigns across the retail sector.
The Organizing Director will report to an OUR Co-Director, and will supervise Deputy Organizing Directors and, as needed, lead organizers in emerging programs.
Job duties include working with the Deputy Organizing Directors and broader organizing team to:
Advance national and local worker-driven campaigns to raise standards in the service sector and raise awareness about the challenges people face in low wage retail jobs.

Develop and manage a integrated, robust field program across multiple employers, campaigns and program areas nationally and in key states through OUR's online to field organizing model.

Build a program that grows through workers organizing their peers, specifically integrating organizing skills building, setting up the infrastructure for members to organize to scale, and launching an organizer-in-training and member volunteer organizer program.

Collaborate with partners to organize national days of action, support our campaigns and offer OUR's support to the broader progressive movement.

Work with the Digital Director and her team to integrate online organizing strategies nationally and with our field partners to support worker outreach, engagement, and leadership development.

Develop and implement strong field metrics, data management systems and workflow to create an effective and efficient organizing program.

Build a scaled story collection and spokespeople development program that supports our campaigns.

Train allied grassroots organizations in online to field organizing through direct field support, weekly coaching session by phone, and developing trainings for a cohort of worker organizers.

This position will involve extensive travel.
Qualifications
Minimum 2 years management experience running a worker organizing team.

Minimum 5 years organizing campaign experience including in a campaign leadership capacity.

Experience identifying and recruiting members and leaders in worker organizing campaigns.

Strong writing, research and communication skills.

Strong listening, persuasion, facilitation and interpersonal skills.

Excellent self-management skills, with the ability to work independently.

Strong database management skills that help to scale the program and inform analysis of the base and strategy.

Ability to relate to and work with diverse groups of people as well as an understanding of the daily challenges faced by low-income communities of color.

Strong database management skills that inform analysis of the base and strategy.

Familiarity with digital strategies and online to offline organizing.

Ability to work varied hours including nights, weekends and holidays.

Must have car and be able to drive and maintain a valid driver's license, and travel as needed on a regular basis.
Salary range is $76,000 – $90,000 dependent on experience and location. OUR is an equal opportunity employer with a commitment to equity. People of color, women, and LGBT candidates are encouraged to apply.
Location: Oakland, CA
APPLY HERE
WHEN APPLYING: Be sure to indicate that you saw this information at UNIONJOBS.COM.
Job Posting Courtesy of UnionJobs.com