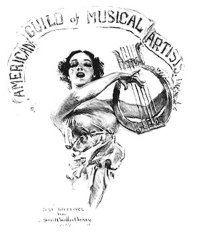 AGMA National Executive Director
Based in New York City, NY

The American Guild of Musical Artists (AGMA) is seeking an experienced and creative individual for the position of National Executive Director of this progressive, committed and well-established organization.
AGMA is the American labor union that represents about 8,000 opera and concert singers, ballet and other dancers, directors, choreographers, and backstage production personnel at opera, dance, and concert companies. AGMA's signatories include The Metropolitan Opera, American Ballet Theater, New York City Ballet, Lyric Opera of Chicago, Joffrey Ballet, Chicago Symphony Chorus, San Francisco Opera, and San Francisco Ballet, as well as important regional companies all across the country.

AGMA provides an extensive nationwide net of attorneys and negotiation specialists to defend the professional, civil and human rights of its members.
AGMA's diverse membership balances commitment to artistic quality with motivated and informed dedication to the union movement, as well as fair, democratic representation for all members. The elected leadership works closely with professional staff to help develop policies and strategies to address the ever-shifting landscape of the performing arts in today's society and economy.
AGMA maintains its principal office at 1430 Broadway in New York City.
Duties, Responsibilities, and Core Competencies
Governance
Keeps the Board of Governors informed on issues, needs, and operations of the Guild.

Negotiates contracts for AGMA members.

Recommends programs to the Board to implement and achieve Guild objectives.

Acts as prime spokesperson for the Guild.

Anticipates major issues that will affect members and prepares appropriate responses for consideration by the Board and Officers.

Supports the Executive Officers and Board members in their efforts to implement Guild goals.
Staff and Personnel Management
Understands the role of governance and staff in implementing governance actions and policies and makes assignments as appropriate.

Evaluates performance of staff according to adopted policies and job descriptions.

Demonstrates an understanding of the need for a diverse workforce.

Supervises the internal labor relations program.
Financial Management
Keeps informed of the financial status of the Guild.

Promotes competent and efficient business procedures.

In coordination with the Director of Operations, evaluates financial needs and prepares budget recommendations for consideration within the established processes.
External Relationships
Supports governance actions and policies to membership, local leaders, staff and public.

Communicates and works effectively with Guild staff.

Works effectively with other organizations.

Promotes support for the programs and policies of the Guild from elected government officials.
Qualifications
BA or BS Degree. Law Degree preferred.

Broad understanding of the critical issues and problems facing the entertainment industry professionals.

Work-related background including experience in the entertainment industry preferred.

Demonstrated organizing, negotiating and coordinating skills necessary to successfully complete complex group projects and activities.

Demonstrated ability and willingness to face controversy and remain calm in crisis situations.

Demonstrated ability and willingness to make sound decisions.

Demonstrated ability to work well with a wide diversity of individuals and groups, including in a governance structure.

Experience and background in labor unions.

Demonstrated leadership ability in working with professional groups.

Demonstrated effective verbal and written communication skills.

Demonstrated effective interpersonal skills, including the ability to work effectively with the Guild leaders, members and staff.

Demonstrated computer literacy
Send resume to: johnpokeefe@hotmail.com

John O'Keefe

O'Keefe Search

919-303-5903

johnpokeefe@hotmail.com
O'Keefe Search is dedicated to building strength in progressive organizations and to helping social justice and labor activists find the right job.
WHEN APPLYING: Be sure to indicate that you saw this information at UNIONJOBS.COM.